Due to the Global Pandemic, Golf's First Major of 2020 Tees Off in August
It might be 2020, but it has been an odd year. It's been over 13 months between majors, the longest stretch since the 1940s. With the U.S. Open and Masters postponed (and both now rescheduled for September and November respectively) and the British Open cancelled altogether due to Coronavirus, the rather unusual sounding date of Thursday August 6 marks the first major of the year as the opening round of the 102nd PGA Championship takes place at Harding Park in San Francisco.
Another oddity will be a lack of spectators. Thus the question – how it will impact the leaders coming down the stretch given that many players feed off of that crowd energy?
"I don't know if anyone in your generation has ever played without fans in a major championship. It's going to be very different. But it's still a major championship," said Tiger Woods. "It's still the best players in the world. We all understand that going into it, so there's going to be plenty of energy from the competitive side. But as far as the energy outside the ropes, that is an unknown."
What is known is that weather will likely be a factor more than it has since the PGA has returned.
In the restart events, clearly it's been very hot. But the world's best players are coming to a place where the temperature drops and the air is heavier (and the rough certainly thicker).
"The coldest winter I ever spent was a summer in San Francisco." This astute statement has often been attributed to legendary American storyteller Mark Twain and it might come into play with such weather challenges as wind, rain and fog.
No ifs, ands or buts, Harding Park is going to be playing longer. The ball simply doesn't fly very far there. That's just the way it is.
Television broadcaster and a 6-time Majors winner, Nick Faldo, sums up the likely key to success when he stated: "High rough, cold weather, well thought out decisions on the tee – strategy will be an even bigger factor at this PGA championship."
Designed by Willie Watson and Sam Whiting, and opened July 1925, Harding Park went through an extensive restoration in 2002-2003, which included expanding the course to nearly 7,200 yards in length.
Danger lurks all around this par 70 track. There are 47 bunkers and water may come into play on holes #10, 11, 14, 15, 16, 17 and 18.  And it is those three closing holes that loom large. The par 4 16, par 3 17 and signature par 4 18th offer, as Harding Park GM, Tom Smith put it,'(There's) opportunities to make eagles as easily as double bogeys, lots of variables making up those final three holes."
It's going to be a test, and with the overhang of the numerous cypress trees, if a player tries to cut a corner and ball hangs up, there may be a couple lost balls.
And as Faldo forecast, the roughs which are also likely to be wet, especially in the mornings, could be quite tough to control spin and distance.
In a field of 156 players featuring 92 of the top 100 players in the world rankings, including all of the top 10, one of the favorites expressed his eagerness about taking on the challenge ahead.
"I'm excited. This is a big-boy golf course. Got to hit it straight and put it in the fairway. It's going to be quite long. I think it kind of plays into my hands," said two-time defending champion Brooks Koepka.
Throughout the course of history only one player has won three consecutive PGA Championships. Walter Hagen actually reeled off four in a row back in the mid- 1920s when it was match play (stroke play began in 1958).
Other leading contenders include Justin Thomas, who just won his 13th Tour event last weekend and a return to the No. 1 ranking in the world (he also won the 2017 PGA Championship). Dustin Johnson, Bryson DeChambeau, Jon Rahm are also mentioned often in the conversational mix of winning the tournament. And don't forget the winner of golf's last major, Shane Lowry.
Koepka, who is paired with the Irishman, sees the defending British Open champion among the leaders late in the final round: "Shane is a good player. Drives it really well. He hits a tight little draw. Great short game, and he's going to be right there come Sunday."
Two players of note, Tigers Woods and Rory McIlroy, have enjoyed good success at events held on this course. Though they were held awhile back, Woods beat John Daly in a playoff for a WGC title at Harding Park in 2005 and went undefeated in five matches at the 2009 Presidents Cup. McIlroy won the 2015 WGC-Match Play.
Still, a lot of attention will rightfully be given to Koepka's shot at history. At a press conference going into the first round, he revealed his mindset that has garnered four major titles.
"I love the fact that it's probably the toughest test of golf you're going to play all year with — setup-wise and then mentally it's exhausting. I enjoy when it gets tough. I enjoy when things get complicated. You can really — there's always disaster lurking, I think it something I enjoy, where every shot really means something, "said Koepka. "Every shot is so important and you can't — you can't lose focus on one and I think that's something I'm really proud of myself that I can always just hang in there mentally and hit the shot that I need to hit at the right time, and don't let off the gas pedal."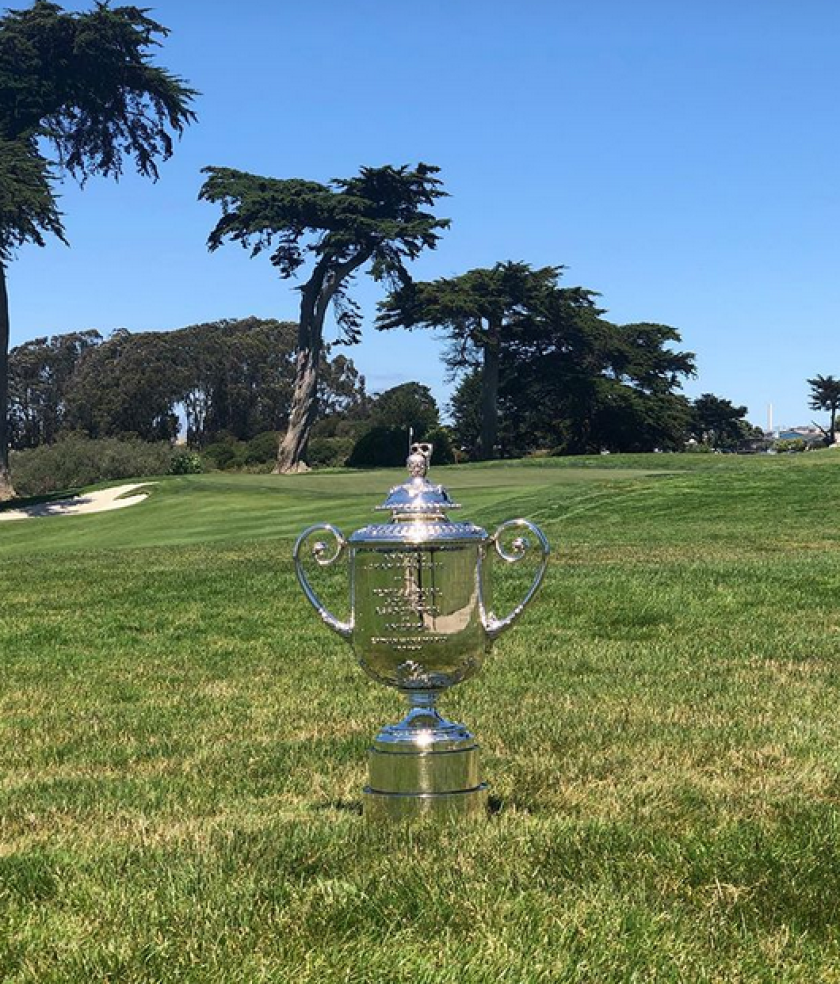 As Walter Hagen famously said, 'Nobody remembers who came in second,' and with so many great competitors, the quest is on for the Wanamaker Trophy in San Francisco.