Star-studded Indian Open countdown is about to get over!
Prize Money: US$1.75 million, Winner's Purse: US$291,660
Venue: DLF Golf and Country Club
Starts: From March 28, Thursday till March 31, Sunday
Wiesberger stars as World Team beats Asians in Hero Skills Challenge at Hero Indian Open 2019
Bernd Wiesberger is just about getting back from his injury and the display he put up at the Hero Skills Challenge indicated that he is on the right path. The Austrian, who was out of action from May to November last year due to a wrist injury, showed some skillful play as he won his team, the Rest of the World (RoW), three of the four Skills against an Asian foursome at the action-packed forerunner of the 2019 Hero Indian Open, which gets underway on Thursday.
The Challenge was played out at the ninth hole of the Gary Player course at the DLF Golf and Country Club.
Each Skill win was worth $ 2,500, which meant the RoW won US $ 7,500, while the Asian team won US $ 2,500. But the winnings were donated to a charity.
Stone, Wiesberger find DLF's Gary Player course spectacular, while Kapur is hopeful and Rai calls it his favourite course
Brandon Stone is making his first appearance in India and at the Gary Player layout at the DLF Golf and Country Club, while Austrian Bernd Wiesberger played at the same club five years ago but at the Arnold Palmer course during a 2014 European Tour event and both were awe-struck with their first look at the course.
Stone, who shot a 10-under 60 while winning the Scottish Open last year, said, "It's my first time coming to India and so far, spectacular. I took my first tuk tuk ride yesterday, which was a lot of fun, and my first time looking at the course today. Mr (Gary) Player has come up again with another very unique design."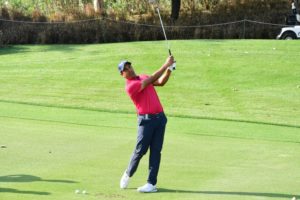 "I missed the cut the last two years so I will obviously be doing things differently. Tee to green I've played it well the past two years it just hasn't been able to do well on the greens. This year the greens are playing quite different so my focus this time around is to try and focus more on the greens, the more you play this course you just learn where to miss it. It's the kind of golf course where you can get quite defensive just knowing there is trouble everywhere and you have to confront it. Visually it's a very intimidating golf course but the actual landing area is quite generous."

– Shiv Kapur (INDIA)
"My first look at the 17th hole and I wasn't disappointed, alternative design so let's say that, the course is in spectacular condition, so I think it's going to be a very fun week. There is a strong field here this week, a lot of local talent, and I am sure they are going to be vying to get their name on the Hero Indian Open trophy."

– Brandon Stone (SOUTH AFRICA)

Aaron Rai insists it would be "a dream come true" to win this week's Hero Indian Open on a course he holds in extremely high regard.
The 24-year-old Englishman has Indian born grandparents and would love to add a second European Tour title to his CV at DLF Golf and Country Club on Sunday. Rai says this week's host track, The Gary Player Course, is among his favourite in the world and he is happy to be there this week along with a host of local talent.
Four-time European Tour winner Bernd Wiesberger is hoping to see further improvements in his game this week as he continues his return from injury. The Austrian missed a large chunk of the 2018 Race to Dubai season with a wrist problem but has managed to play nine events so far this campaign and he is pleased with his progress.
Indian-origin stars making a mark in Europe will get extra fan support at the Hero Indian Open
Aaron Rai, Julian Suri and Jack Singh Brar. All three players, who feature this week at the Hero Indian Open, have strong Indian connections, but none has an Indian passport. While Rai and Brar wear English colours, Suri is American. But they all are of Indian origin, though they have been in their respective countries for most of their lives.
Brar, who is of British Asian descent, won the Faldo series in 2012 and then played Walker Cup for England and won three of his four matches in 2017, following which he turned pro.
Suri, 27, won the Made in Denmark tournament in August 2017, and was second at Hong Kong Open in 2017, and he went on to reach the season-ending DP World Tour Championships in 2017. Suri's best world ranking has been 60th.
Rai, 24, winner of the Hong Kong Open in 2018 a year after Suri came second, also won three titles on European Challenge Tour, and his best world ranking has been 103rd.