BY RANDY WILLIAMS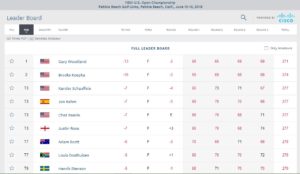 Round 4
Gary Woodland held off all challengers, including former champions, Brooks Koepka and Justin Rose,to win the 119th US Open, his first major victory.
Having held 54-hole leads in seven previous tournaments and failing to hold on to any of them, there would be no denying Woodland this time.
Rory McIlroy watches his third shot on the second hole during the final round (Copyright USGA/JD Cuban)
The 35 year-old never lost his lead and punctuated his victory dropping a massive 30-foot birdie on the 72nd hole for an impressive three-stroke win at thirteen under 271 which included no three putts.
Brooks Koepka, who finished second, could not help but be impressed.
"I gave it my all (but) Gary played a great four days of golf. That is what you have to do. He's worked hard and deserves it."
Justin Rose, paired with Woodland, had a pair of bogeys on the back nine that put him out of contention. Still, he was impressed by his playing partner's poise.
"Gary hit all the shots when he needed to," said Rose."He was unflappable and finished great with the long birdie at the 72nd hole."
While a key to victory was his accuracy, hitting 73 percent of fairways and 72 percent of greens in regulation,Woodland attributes alot to the mental side of the game.
"I never let my mind get ahead. Throughout the entire round I just stayed in the moment," said Woodland. "Getting birdies early on two and three really gave me confidence and I credit my caddy for believing in me to take aggressive angles all day."
ROund 3
It was moving day at the US Open and surprise, surprise Brooks Koepka was climbing the leaderboard with a 68. Seven under, he is just three back of Justin Rose and four back of leader Gary Woodland.
"What I'm doing is working," said Koepka. "I'm pleased with how I am striking the ball.We'll see what happens with the pressure tomorrow, but I like my position."
Hoping to celebrate his 49th birthday Sunday with a US Open win for a career grand slam, Phil Mickelson shot himself out of contention with a 75 despite major backing from the crowd.
"I needed to go low today," said Mickelson. "I had opportunities, but finished poorly, but I look forward to playing tomorrow because this is a special place and I have much gratitude for the fan support."
Sunday's final should be an interesting mix of former US Open champions like Koepka, Rose and McIlroy not only fighting off each other, but other contenders hungry to win their first US Open including Woodland, Matt Kuchar and Louis Oosthuizen.
Graeme McDowell, the 2010 US Open champion when it was last held here, eagled the last hole to go four under then offered some advice.
"Pebble Beach is a sleeping giant that requires you to stay in the moment."
ROUND 2
With superb putting which included sinking a birdie of nearly 50 feet on his last hole Gary Woodland took a.two-stroke lead into the weekend. However, some big names are lurking. 
"At this point there's not a  lot  to worry about," said Rose. "If you're one ahead, one behind, it's a lot of golf to be played. But I 'm in a perfect spot."
 Two-time defending champion Brooks Koepka continued his consistent play with another 69.
 "The weekend will be a challenge. Mistakes will happen" said McIlroy. "I've. got to bounce back from inevitable bogeys, but if I can get two more rounds in the 60s, I'll take my chances."
Anirban Lahiri missed out on weekend play with scores of 74-77.
"I have never played this course before. and wih the USGA layout, you absolutely must make putts between 10 and 15 feet," said Lahiri."My short game, which is one of my strengths was off."

"I have now played the U.S. Open three times and have yet to make the cut, but believe me, it is high on my 'to do' list."
US OPEN ROUND 1
Friendly weather conditions at Pebble Beach yielded some great scoring opportunities in the first round of the U.S. Open.
"Fog and a misty morning kept the greens soft for much of the day" said two-time defending champion. Brooks Koepka who finished with a -2,69.
Rickie Fowler, looking for his first major, was the morning leader finishing with a 66, Thanks to six birdies.
Anirban Lahiri finished with a + 3, 74.
However as the sun set over the Pacific, Justin Rose wielded a hot putter scoring birdies on the last three holes to take the first round lead with a 65..
"It was a fun day going from a good round to a great round."