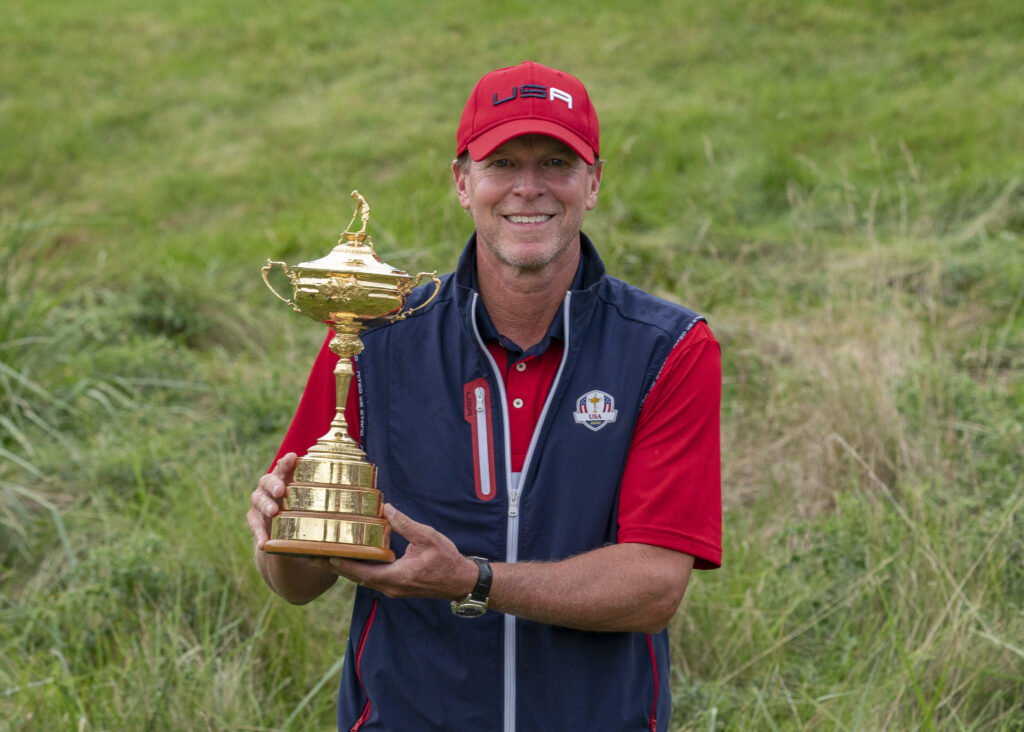 The 43rd edition of this biennial event provided golf fans with three days of constant excitement as the elite 12-man ensembles battled it out on the shores of Lake Michigan for what is widely acknowledged as the sport's most prestigious team prize.
History may very well one day anoint this the greatest U.S. Ryder Cup team we've ever seen. It certainly has the makings of it. Captain Steve Stricker even suggested it was. But those throwing the bold new wave superlatives should slow their roll. There is still an asterisk attached to the youthful squad who produced the 19-9 rout of Europe at Whistling Straits.
Stricker's 12-man team sported eight players under 30 and six Ryder Cup rookies. Their average world ranking came in at an incredible 8.9. But if they want to truly be considered an epic team, they have to do the job on European soil. The simple fact is the U.S. haven't won away from home since 1993. When they get to Rome in 2023, it will have been 30 years since an American team has pulled that off.
After the celebrations die down in Wisconsin the planning should begin again. We've seen this movie before. After a 17-11 win at Hazeltine in 2016 the talk of a changing of the guard was the U.S. narrative but the 2018 team who went to Paris were humbled 17.5-10.5 by Thomas Bjorn's European squad. Until the U.S. can match what Europe did in 2012 and 2004 – win away from home – they are just part of a predictable two-year cycle.
"This is a start to a new generation. We are going to be doing some incredible things moving forward," rookie Bryson DeChambeau stated confidently afterwards.
But while his teammates reveled in the large win, Jordan Spieth, at just 28, showed the wisdom of a veteran. Spieth was the second most experienced player on the U.S. side playing in his fourth Ryder Cup. Twice he's felt the heavy end of losses in Europe and as such he was quick to make it clear this side was not done.
"This is unfinished business. We needed to win this one and it was a massive steppingstone for this team and the group that we have here that have really known each other since almost back to grade school," Spieth said after the victory.
"It's one thing to win it over here and it is a lot easier to do so but it is harder to win over there. If we play like we did this week, the score will look the same over there in a couple years, and that's what we're here for."
It's rare to see the same side return in back-to-back Cups. Two years is a long time in golf. Injuries, form lapses, all sorts of things can change who might be on the team in Rome. Prior to the that the U.S. will take on the Internationals in 2022 at Quail Hollow in the Presidents Cup.
But this squad could very well stay unchanged. They might have had just 11 Ryder Cup appearances between them leading into the contest, but they weren't without significant pedigree.
In an event that stands for tradition, team spirit and sportsmanship, it was the Americans who on this occasion were able to harness their individual virtuosity to achieve collective success. As ever, the matches were fierce but always staged with unreserved respect between opponents.
Rolex has been closely affiliated with this always highly anticipated competition since 1995 when it became a sponsor of the European team as part of a close relationship with golf dating back more than 50 years. In its quest for excellence, the brand has forged partnerships throughout the sporting sphere where the highest standards of performance are set. This includes many world-class events, including the Ryder Cup. This year, the Swiss watchmaker strengthened its support by becoming a Worldwide Partner, committing to serve as Official Timekeeper at every iteration.
Holding a record six-point lead heading into the final day, the United States, among them five Rolex Testimonees, displayed impressive accuracy and resilience throughout the matches, attributes that resonate strongly with Rolex's own pursuit of perpetual excellence in its watchmaking and all other endeavours.
Following Sunday's Singles, United States winning Captain, Steve Stricker, said:
"This is a special day. This Ryder Cup means a lot to everybody. These guys played great, they came here with a mission and they did it."
As one of the United States team's leading point-scorers, Rolex Testimonee Bryson DeChambeau said:
"I couldn't be more proud of Captain Stricker and for everyone here for throwing their hearts out and making this event the coolest experience I've ever had in my professional golf career."
In achieving their second Ryder Cup victory, Brooks Koepka and Jordan Spieth confirmed their status as two of the best golfers in the world and join an exclusive list of Rolex Testimonees to have achieved multiple successes at the Ryder Cup. Additionally, fellow Testimonees Daniel Berger, Bryson DeChambeau and Justin Thomas secured their maiden Ryder Cup victory, contributing to an historical back-to-back win on home soil for the first time since 1979-1983 for the United States team.