Scots golfer Stephen Gallacher narrowly won last year's Hero Indian Open thanks to a birdie blitz over the final few holes, claiming his first-ever national open championship as a professional, and in what he views as, 'The twilight,' of his career.
And, in March, the 45-year-old is relishing the opportunity to defend his title and returning to India, a country he loves, from its culture and its people and especially its food, to the burgeoning quality of its golf and golfers.
Mike Wilson caught up with him as he prepares for his return to the DLF Golf & Country Club in New Delhi, where he will once again have his teenage son Jack on the bag in a family affair.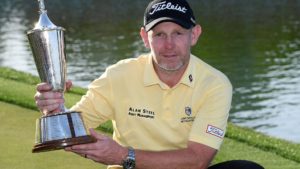 Scots golfer Stephen Gallacher can scarcely believe almost a year has gone by since his dramatic victory at the 2019 Hero Indian Open, but, he says, "Great memories, they're still fresh in my mind and providing me with the motivation to get back to India and do it all again.
"It was my fourth European Tour title to date, and my first national open championship victory, which was extra special," he reflects, explaining, "Tournaments come and go, Sponsor's Classic-this, Invitation-that, but a genuine national open golf championship, that's authentic, win one and your name is on the trophy and the honours board for ever, you become part of that country's golfing folklore."
He continues, "The 2019 Hero Indian Open was extra special in so many ways, not just the prestige of the tournament, but also the quality of the DLF G&CC course, which is one of the toughest and best-kept we play on all season on the European Tour, so winning over a course of such high caliber meant even more to me."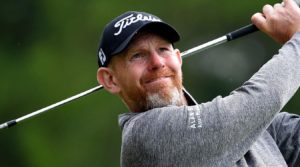 But there was one added dimension that struck an extra special chord with the veteran Scotsman, a strong family threat running through his triumph.
"I had my teenage son Jack [himself a one-handicapper] on the bag last year, and we'll be together throughout this season and next, so he'll be an integral part of my title defense, in the same way as he played a full part in my victory last year, not least by reading the gusting wind and making the right club selection for me to all-but seal victory on the difficult 17th hole on that fateful final day.
"And I also won my first national open on Mother's Day, which was great for my wife Helen, Jack's and my daughter Ellie's mum, and my own mother too, so it was quite an emotional occasions all round."
But on that final Sunday, almost 7,000km east from his home near the Scottish capital, Edinburgh, victory, and the US$290,000 (Approx. INR20m) first prize seemed a long way off as Gallacher approached the back nine.
"I took an ugly triple bogey eight on the tough Par-5 8th hole, 566-yards, and DLF is the sort of course where trouble lurks at every turn and big numbers can be racked up," he says, recalling, "But I said to my son Jack, 'look, we're only a few behind here, so let's give it a go down the stretch and see what happens,' and it did."
And what transpired was extraordinary; Gallacher birdied three of the last four holes, carding a final round of one-under-par 71 and victory by a single shot over Masahiro Kawamura from Japan.
"Having won a few times before on Tour, on home soil in Scotland, at St. Andrews, which was special, and in Dubai, where I was partnered with both Rory [McIlroy] and Tiger [Woods], I knew how to handle the pressure, which comes with experience and maturity, you seem to know just what to do, and the winning feeling was fantastic, especially celebrating on the 18th with Jack."
He recalls, "It was windy, so coming from Scotland, I knew how to handle that, but it was also close on 40ºC, which we don't experience back home, and DLF is a bit like Wentworth – every bit as challenging, especially in windy conditions – so when I coaxed that last short putt into the hole, it was relief all round.
 "The 18th at DLF, at 625-yards, Par-5 is brutal, one of the toughest, if not the toughest finishing holes we play on Tour, my four-iron into the final green on the last on the Sunday was one of my best of the whole year, and getting on a roll down the stretch – momentum is so important in golf, like all sports – made my Indian Open victory, taking everything into account, the most satisfying of my career so far.
"And what a thrill it would be to defend successfully, so I'll be targeting that once I'm back playing competitively at the Desert Swing, but, being co-sanctioned by the Asian and European Tour's the Hero Indian Open isn't just one of the most cosmopolitan tournaments of the year [over 30 different nations were represented last year], it's also one of the most competitive."
Most of the top guys from Asia will be there, lots of established and up-and-coming Indian players, and some proven winners from the European Tour in the mix, so it's not going to be easy."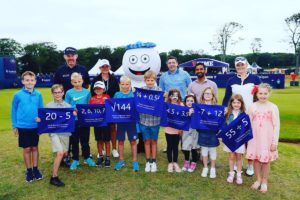 Having won so early on in his 2019 campaign, the rest of the season did not go exactly to plan; seven successive missed cuts, starting with the British Masters in May and not ending until a top-50 finish at the Scandinavian Invitational derailed his 23rd season on the European Tour, a remarkable record of consistency, and with a two-year exemption arising out of his win in Gurugram near New Delhi almost a year ago, Stephen Gallacher is upbeat about the future.
"My Hero Indian Open win proved, to myself and others, that when I'm fit and healthy and get in the mix at the business end of a tournament, I can find a way to close out a victory, so there's no reason why I can't win again, whether its by defending my title, of elsewhere," he says, adding, "Looking ahead, I'd like to think I could play on both the European Tour and give the Seniors, in Europe and the US, a go once I've passed the 'Big-50,' in a few years.
Gallacher is one of the European Tour's most hardy, perennial performers; inside the top 50 of the circuit's all-time career earnings list with over US$13m and approaching a billion Indian Rupees, just ahead of Paul McGinley, the man who facilitated arguably the Scotsman's proudest moment in golf.
McGinley awarded Gallacher a coveted wildcard for the 2014 Ryder Cup, staged in Scotland – around 50 miles from his home – and following in the footsteps of his uncle Bernhard Gallacher, who endured no fewer than eight losing appearances as a Ryder Cup player (he went on to win one, in 1995, out of three as non-playing captain) whereas his nephew's playing record proudly reads, 'Played one, won one.'
"That whole 2014 Ryder Cup experience on home soil, so close to home was truly amazing, emulating my uncle was very special for the whole family, and, given the opportunity again, I'd bite the captain's hand off."
A seasoned traveller over many years, Gallacher says, "I'm a fairly patient guy, so I just take everything, delays, lost luggage and golf clubs in my stride, and it's been a privilege to see so many different parts of the world, and India is, without question, one of my favourite destinations.
"The Indian people are so friendly, I'm a huge fan of Indian food, especially on the spicy side, a Balti with a bit of a kick, eased down with a couple of Kingfisher beers, you can't beat it, and there's a place back home, local to me, the Ashmaan serves excellent, highly-authentic Indian food, hence I'm a frequent customer."
Gallacher is very friendly with several of the Indian players on Tour, "Especially Jeev [Milkha Singh] as we both share a love of Scotch Whisky, Shiv [Kapur] and I've been very impressed with Shubhankar Sharma, who has achieved so much for someone so young and will only get better, whilst SSP [Chowrasia], Anirban Lahiri, Gaganjeet Bhullar and the rest of those guys, all proven winners and great ambassadors for India and Indian golf."
He has also been impressed with the development of top Indian woman Aditi Ashok, observing, "She's a real talent, and the sky is the limit for her if she continues to work hard.
"Indian golf has strong heritage, and, I believe a huge future, especially if the authorities can get more and more youngsters into the game, playing at school, and with golf now back in the Olympics, that should help drive both public and private sector investment into Indian golf from grass roots level, right up to the elite, professional game."
And Stephen Gallacher is putting his money where his mouth is too; since 2012, through his Foundation back in Scotland, he already helped tens of thousands of youngsters get into the game, explaining, "We provide the opportunity, the equipment, the courses, logistics and the encouragement and there is, frankly, no excuse for not trying to help, enjoyment, along with the life skills, the physical and mental health benefits golf gives, is the name of the game, and if one or two along the way can make it through the ranks, that's simply a bonus."
Now 45-years-old, he is very much looking forward to defending his Indian Open crown, observing, "I successfully defended my 2013 Dubai Desert Classic title in 2014, so I know I can – and how to – do it, and I quite enjoy everything that goes with defending a title, the press, the sponsors, requests for autographs, you just have to take it in your stride and manage your time effectively.
So, will Stephen Gallacher prove to be the hero once again, having been an ever-present since the Indian Open moved to the DLF Golf & Country Club in 2017 and a seventh place finish the following year?
"We shall see what transpires in New Delhi in March, but it will be an honour to try to defend, it will be a huge undertaking given the quality of the field the event attracts and the toughness of the golf course, but it certainly won't be for the want of trying," he concludes.
The Hero Indian Open takes place at the DLF Golf & Country Club, New Delhi from 18th – 21nd March 2020.