by Wg Cdr Arun Kumar Singh (Retd)
President, GCS&MAI
India was the Jewel in the Crown of the British Empire and attracted many to its shores for making a fortune. A bureaucracy which had more than half of its strength to be of Scottish descent, ensured that a game of golf was available to the ruling elite. The golf courses were bestowed with inclusion in the Royal charter and apart from the 'Calcutta Golf Club' oldest golf club outside UK another two 'Royal' were located in erstwhile Bombay Presidency. Pressure on land soon led to the closure of 'Royal Bombay' but the 'Royal Western India' at Nasik survived and thrived as it offered a welcome break in salubrious climate.
The club hosted some well-known tournaments including the prestigious Western India Championship. The event was well patronized and well supported and the Railways ran special Saloons and also gave concessional fares to participants. The club didn't survive much in the independent India as racially discriminated membership rules had ensured that the natives knew nothing about golf. The void was filled to some extent by the Artillery School in nearby Deolali who laid out a 'Brown' course for their officers and the Artillery Centre too opened a golf club. The two Air Force stations located nearby also opened small facilities for their officers in some time. All of them remain restricted facilities which are not open to citizens of the region.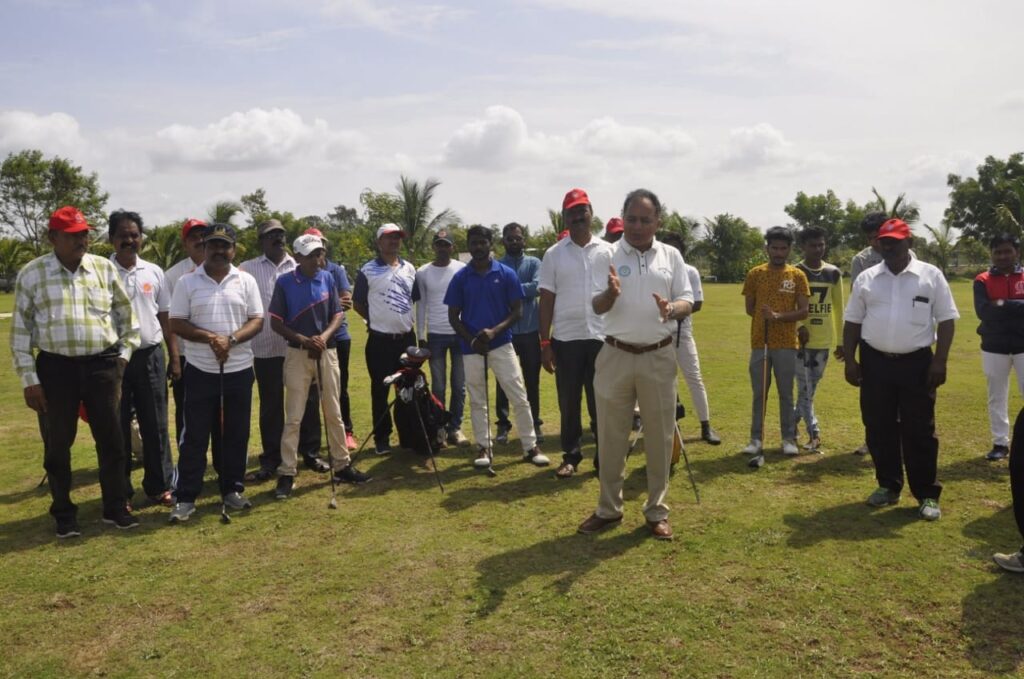 Riverside Golf Course comprising grass fairways and Greens opened in 2017. A labour of love for a retired Air Force officer having access to limited resources, Riverside became the first golf facility in the area to provide access to all citizens. In the days of the Raj, Royal Western India was open only to Europeans and the later addition by armed forces were open only to service officers. Golf is a financially challenging business and there were enough naysayers who tried to disrupt the dream of Pradeep Bagmar. It was only the grit and persistent pursuit of incremental improvements with humility and innovation which created a path of sustainable growth for the new golf course.
Riverside conducted its second championship recently and it was a resounding success despite the Covid induced disruption. The event attracted a full field including the local professionals who vied for cash prizes. The strategy of being inclusive and passion for providing opportunities to less privileged had ensured that the pyramid had become much larger in a short span of time. The game had really grown as a full field was beyond anyone's imagination only two years ago when the course had no golfers on its fairways.
Riverside is an example of sustainability in both financial and environmental parameters. The membership base has grown steadily and many friendships have been forged on the golf course. Riverside even today has limited resources and is unable to afford much in machinery etc. but it keeps pecking at it steadily by reinvesting its revenues. One can borrow from the book by Rajesh Shrivastava (former President Helen Curtis) and say that Riverside discovered new rules of doing business. It's not very difficult to see that the old ways of running golf have to change and new ways practiced.

Golf course Superintendents and Managers Association of India has been supportive of the sustainability initiatives of Riverside and I have been an avid participant in the journey. The probable reason for the sustainable progress could be the ones listed below.
Clearly Defined Aim.
The golf course was not built for the social elite and had the clear aim of being an inclusive facility which provides access to the common citizens of the joys the joys of discovering golf. The golf course was meant to promote golf and make the base of pyramid larger.
Simplicity
The strategy of creating the facility was to have simplicity in execution by not cluttering it with too many functions. A simple golf course needed to be built to cater to the needs of local sports lovers and assumptions like necessity of ancillary facilities like fine dining facilities, spa and the like wasn't focussed on. Riverside was to be a facility for playing golf and a place for healthy outdoor recreation in a friendly ambience. It was a conscious decision to not pay too much attention to the opinions of 'Studs/Gods' who lived to create an image for themselves.
Small is Beautiful
Riverside was built after a thorough appreciation of the limitations of land, soil, resources and availability of market. Costs were kept under control by preferring indigenous resources over slick marketing by foreigners. A simple golf course which suited the beginners was created.
Using the Lay of the Land
The available land was used as it lay and massive earthwork were not undertaken. This reduced costs, protected the habitat and did not interfere with local ecology.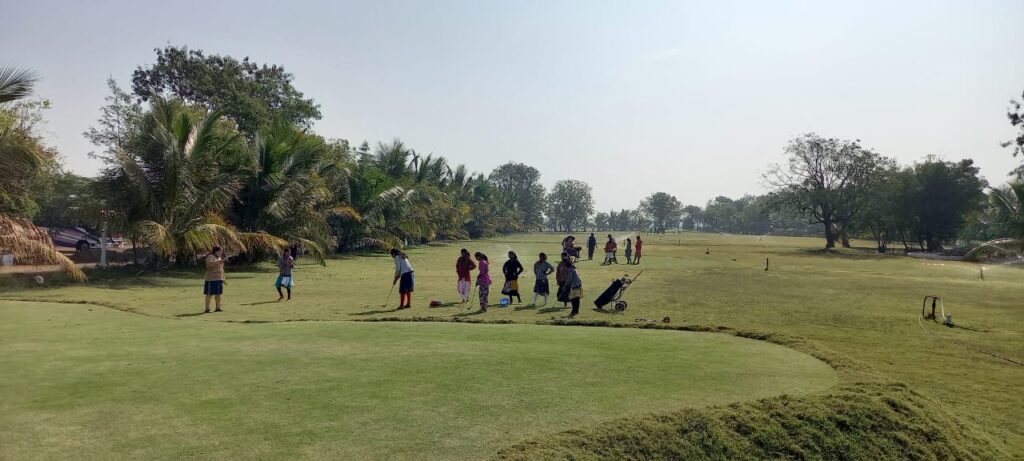 Ethics and Managing Greed
The golf course was built on clearly demarcated land with clear ownership rights. There was no desire or attempt to encroach on public land or expand into areas having debatable ownership. This created an atmosphere of trust and respect with the government officials. There were no possibilities of notices, investigations, searches and the like which let everyone focus their energies on the task of creating the facility.
A Dynamic Sports Department
The state and the district were blessed to have a dynamic sports department with highly active people like Sunil Kedar, Om Prakash Bakoria and Ravindra Naik manning the offices. They believed in the power of sports to improve the lives of citizens from the state. It certainly helped that Riverside was an inclusive and accessible facility which increased the awareness about the sport and allowed the department to reach out to the citizens of the region.
Clear and Consistent Growth Strategy
Nasik, despite having been home to a 'Royal' Golf Club, had no golf culture and the sport was considered to be a pastime of rich and old. Golf clubs owned by Army and Air Force establishments were not open to citizens of the area and didn't contribute to the growth of the sport among common citizens. The strategy was to create awareness, whet curiosity and enable people learning to play the game. Efforts were also made to introduce the game among school children from government schools, physically disadvantaged persons and girls from tribal areas. The golf course has already made a very positive impact in the local society which is different from the snobbish exclusivity practiced by some older institutions.
Collaboration
It was known that venturing into business of golf was risky but the temptation of creating a 'family' of passionate golf promoters was resisted. Promoters saw the value of collaboration and accepted that an individual alone can't create success. In a hero-worshipping country like India, it is difficult to avoid falling in the trap of individualism and it was overcome by creating a collaboration between iterators, sports lovers and the department of sports. Arrogance of knowing all and being superior by virtue of being a golfer was buried to have an effective collaboration.
Coalition of Diversity
The well-known historian Doris Kearns Goodwin famously wrote 'Team of Rivals' to celebrate the genius of Abraham Lincoln in creating a cabinet comprising his erstwhile rivals to harness their talents. Riverside had a group of sports lovers coming from diverse backgrounds and having divergent views discussing the path to follow. There was no attempt to be surrounded by 'Yes Men' and it paid dividends. The coalition was successfully demonstrated when Rajiv Deshpande, an experienced Tennis administrator, became the first Captain of the course. Many others, having knowledge of other sports and industry are actively providing ideas and guidance.
Golf is a Sport First
Riverside has grown by treating golf as a sport first and no serious attempt is made into making it a social address for the socialites to congregate. F&B services are limited but focussed on quick service and wholesome food. Members are also looking at participating in the sport for healthy recreation and forge new friendships on the course. Every attempt is made to understand what the young people want and a kind of reverse mentoring is practiced.
Awareness of Gaps
Riverside is a simple and unpretentious facility and is aware about many gaps which need to be filled. The course will need constant improvement and up gradation which needs to follow a long-term plan. The clubhouse too would need to be created to take advantage of the outstanding climate. The plans will not be executed in a knee jerk fashion and incremental improvements is the mantra.
Riverside has followed a path of simplicity and prudence to create a facility which is accessible to all in both letter and spirit. This accessibility is not the 'Rich Hotel' type which is sometimes claimed by other clubs to obfuscate the truth about the policy of exclusion practiced by them. Riverside has followed a path which has made it sustainable both financially and environmentally. More importantly, it has created a culture growth for the game in an area which was ignored by policy makers since the closing down of Royal Western India Golf Club.