It was my fifth 'outing' to attend another Open Championship hosted at the famed Carnoustie Golf Link at Angus. This time the visit to the Open had an added element as I had a previous official appointment with the legendary Gary Player at the Carnoustie Hotel. During the brief breakfast tete-a-tete and after formalities were completed, Mr. Player graciously acknowledged the contribution of Indian golfers to the game in general and also spoke about our country in glowing terms. Having done with the business of the day, I settled down to enjoy the game and truly soak in the best atmosphere in golf.
As an ardent golfer, passionate about the game, I have never missed an opportunity to be part of these hallowed surroundings. I was present during the Open Championships in 2000, 2010 and 2015, all staged at The Home of Golf, St. Andrews, my favourite destination. But I first visited St. Andrews in 1990 en route to Muirfield having gone to witness the British Amateur Championship being played there. Muirfield is another course steeped in history and is the course of "The Honourable Company of The Edinburgh Golfers", the world's oldest verifiable golf club – formed in 1744.
Blackadder Hall Campus accommodation
Although the game was staged at Carnoustie, I had the option of staying at Edinburgh, an hour and a half away from Carnoustie by train or at Dundee just thirty minutes away from the course; but I preferred staying in St. Andrews (as I always do), a quaint town rich in history, culture and never-ending stretch of beaches. With its seven golf courses, it is rightly recognized as the largest public golf complex in Europe. While at St. Andrews my location was the Blackadder Hall Campus accommodation. I found it friendly, quiet and comfy. Its added attraction was a hearty breakfast which set me up for an action-filled day. Moreover with Carnoustie just a 45 minutes' drive away, it was also very conveniently located.
The Old Course Hotel
A walk through the town of St. Andrews is an experience difficult to put into words – soaking in its unexplainable atmosphere, visiting its famed haunts and pubs, bumping into familiar, jolly faces is a high like no other. Bordering the renowned 17th Road Hole of the Old Course is Europe's finest hotel, the Old Course Hotel which overlooks the famous link courses, and the beautiful Scottish coastline. While it's classic and elegant, it is also modern and contemporary with breath-taking surroundings providing a stunning view of the North Sea. Visitors may frequent the iconic hotel only when it is not reserved for marquee players and the crème de la crème of society. I never tire of wandering around its photo gallery housing hundreds of golf images- a collection of classic portraits and features to the latest action pictures. The photo gallery reminds me of another little pub I visited called the Dunvegan Hotel whose walls are plastered with photographs of golfers from all over the world. Trying to put names to familiar and unfamiliar faces in the gigantic collage, it was so interesting and heart-warming to suddenly come across a picture of Jyoti and Bunty Randhawa featured among the golf greats of the world!
The Royal and Ancient Golf Club
It would be a sacrilege not to mention the Royal and Ancient Golf Club. While we can only dream of playing there, we can at least enjoy the beauty of the course. Just a 15 minutes' walk away from the North Sea, the revered course has a reputation that is well deserved with its every blade of grass groomed to perfection. I was fortunate to meet Aubyn Stewart-Wilson the Members Secretary of R & A later at Carnoustie. He was courteous, generous with his time and took the trouble to introduce me to his colleagues.
The Carnoustie Golf Link
Coming to Carnoustie, the venue of the 147th Open 2018, one can only wonder at its well- deserved reputation- stalwarts specially describe the last three holes as formidable and the course as the toughest golf destination in the world. The long and narrow course, which may or may not be exposed to strong blowing winds truly makes it challenging for any golfer to encounter.
It was almost an Indian summer with the East coast of Scotland bathed in glorious sunshine as the Championship began. As usual, Carnoustie was proving to be tough for the golfers despite the organizers shaving off 19 yards in its course length from the last time the Open was played in 2007. It was awesome to see a quality field gathered to participate in the oldest Major in the world.
Of Marquees and Tents and antique Pro Shops
It was a daunting task and almost impossible to walk the entire course along with players, caddies, spectators and crowds of on-lookers. Not only because it was tiresome but the crowds could have easily made me miss out on some great action. I therefore, considered myself a privileged guest to be entertained in one of the marquees dotting the other side of the golf course. The fenced in enclosure formed a large tented village with a number of spacious marquees situated around the licensed area flowing with food and drink. Swept away by a wave of rousing energy, the fun experience in the marquee was at another level altogether. I was able to indulge in the finest Scottish hospitality- sharing the excitement and the drama, sunbathing with glasses of beer and plates of chips! From the comfort of the strategically placed marquee, I was able to witness history in the making, watching players Tee off on the 1st hole and see them emerge back onto the 18th Green. I was able to accompany them through the length of the course on large life-size screens while they dazzled with their performance, almost never missing an important moment in the day's game. All this was made even more exciting listening to continuous radio commentary through headphones. It felt as if we were involved in so many magical happenings all at one time!
While in Carnoustie my son Kurush called to ask me if I had had the opportunity to browse through the second oldest Pro Shop in the world. Not having a clue of such a shop I was pleasantly surprised to discover the treasured place. I met the friendly owner couple and got talking to them and then like I always do, picked up a lovely souvenir for the house.
Tiger Woods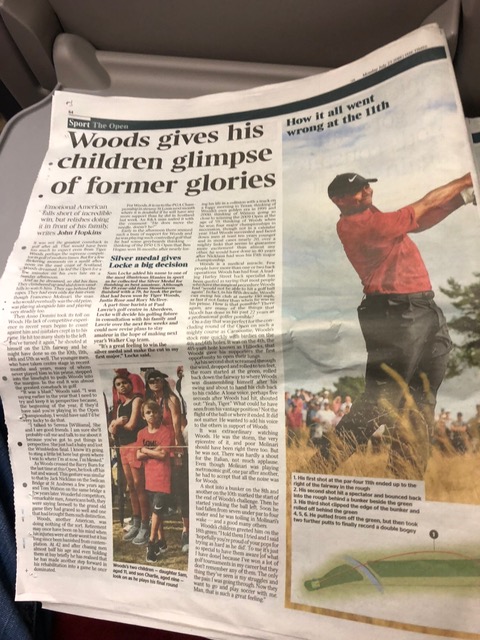 From the marquee we could hear the roar of appreciation from the crowds and knew that it could only be Tiger Woods giving it all he's got. It was a sort of comeback for Woods as he finished three strokes behind the winner Francesco Molinari, The Claret Jug was his for the taking when at one stage for a brief moment he led midway through the final round, but it was not to be. It was an emotional see-saw for his enthusiastic fans who were up one minute with joy and down the next with disappointment. For me personally, watching a resurgent Tiger Woods brought back memories when almost a decade ago 'the one and only' kept us, a group of crazy  golfers awake the whole night  following his every move on the TV, understanding his dominance and reacting with joy with every familiar success. But at Carnoustie, Tiger Woods was giving himself a chance to play and compete and we, his followers were willing him to win. On that fateful Sunday, although he gave away the game that was very much in his hand, he made us believe that he was capable of winning a Major again. That feeling alone felt great! It was a touching moment when Woods congratulated the winner and then found his son Charlie and daughter Sam and hugged them tightly. He hoped that they were proud of him for trying as hard as he had. They hugged him back as if they didn't want to let him go. He got to share some pretty cool moments with his kids. He wanted them to understand what he was doing early in his career, winning a lot of golf tournaments as the only thing they remembered was his struggle and pain. This Open was a 'teachable moment' when his kids at last became aware of the adulation and respect their father commanded as one of the world's greatest golfer. While I am writing this story my mind is far away with Woods battling away at the PGA Championship at the Bellerive Country Club, praying for a miracle to happen because with his ailing body his return is a difficult process and a lot harder than people think.
The Indian Players
The Indian tricolour was kept flying high with two Indian golfers, Anirban Lahiri and Shubhankar Sharma in the fray. For any golfer, winning the Open is more than a journey; it's the opening of many doors to greatness. It was this greatness the two tried to achieve by overcoming discomfort and pain on that difficult course. But their best fell short, disappointing Indian fans, although true to his conviction Shubhankar played on all four days. Enjoying a sensational season, he was up for the Carnoustie challenge. He is the eighth and second-youngest Indian to feature in the Open championship. Gaganjeet Bhullar still holds the record for being the youngest Indian to play the Open. Bhullar achieved the feat at the age of 21 years and two months when he appeared at the Open Championship 2009.
While the two Indian golfers competed on the course it was wonderful to meet two spirited Indian journalists off the course, covering the championship – Joy Chakravarty and V. Krishnaswamy. As members of the media associated with different sporting events, they have travelled the world over making their sport columns very popular among those who are keen to get a better understanding of the game. We were able to renew our ties but briefly because duty called and they snapped to attention and left in a hurry.
The Rolex Lunches & Dinners
Rolex, a patron of the Open, is famed for hosting special lunches and dinners for players and invitees. It's a rare opportunity to meet people associated with the game. The high point of the event is an interaction with guest speakers from different walks of life. I attended one such lunch where the guest speaker happened to be Rod Laver, the Tennis legend from Australia. Arnaud Laborde, the face of Rolex, is present at every Open and the Augusta Masters in the USA. Post lunch he invited Rod Laver to speak. It was unusual for golfers to hear a tennis player but he was able to hold our attention as he gave us a different perspective comparing similarities between the two sports, golf and tennis. Arnaud Laborde then moderated an interesting but casual Q & A session with Rod Laver. This gave me an opportunity to have a short one-to-one conversation with him.  He is a contemporary of Indian tennis star Ramanathan Krishnan whom he greatly praised. On my asking him who his childhood hero was, he replied it was Ken Rosewall.
With special friends
My friend Uttam Singh Mundy and I spent some quality time together. After almost 19 years as an active golfer, he took a risky leap into administering the PGTI. His ability to understand the needs and aspirations of players has made the transition easy. Under him the PGTI has not only grown but has bettered itself. On this occasion, Mundy was particularly a happy man when during a marquee meeting on the sidelines,it was decided that the PGTI would be accorded Official World Golf Ranking points from 2019 onward, something he has been working on very hard to bring about.
Last but not the least, I was fortunate to spend much time with the well- known benefactor of golf, Dilip Thomas (DT as he is fondly referred to by friends) a person with so many interesting facets. He is an avid golfer himself and as a senior functionary of the IGU, is intricately involved in administering it and also looking after international golf. He is truly a worthy representative of Indian Golf in the international arena. Being on several golfing boards, he is known, admired and loved as the man for all seasons by the world's golfing fraternity. My experience over the years has been that whenever you introduce yourself saying you are from India, prompt comes the reply saying, "Do you know Dilip Thomas!". So much for DT being a people's person, I am particularly indebted to him for having facilitated my first interaction with golf's greatest JackNicklaus (at the Augusta Masters 2013) and also for taking the initiative this time for hand-holding and introducing me to different golfing associations; a mean task, if left to fend for myself. Taking me under his wing had made things easier for me.
Overall, it was a splendid, memorable and meaningful trip to be an integral part of one of the greatest sporting events in the world. Already there is an impatient burning desire in me to revisit St. Andrews which can only happen in 2021 when the Home of Golf celebrates 150 glorious years of the Open Championship. Somehow, I find this quote very apt, "I've spent most of my life golfing, the rest I've just wasted" because for me the significance of golf is almost impossible to put into words. It's a promise to myself that I intend to keep; to be there in Ireland next year for the 148th Open Championship to be played at the Royal Portrush course. I am counting the days to be among the mounds and hills again, listening to the roars echo through the trees and once more celebrate an ideal golfing adventure. But these outings are not just fun and games, it's also a learning process when I meet golfers from all over the world, interact with them, understand the value they invest in their game. As a member of the IGU, I look forward to translate all this into further developing the game and in supporting and nurturing golf in India.