by Ranjan Pal
Recently I was invited to play on some of Spain's finest golf courses on the Costa del Sol which stretches along Spain's southern edge. This region boasts 70 of Spain's four hundred courses the highest concentration in all of Europe, hence its popular moniker Costa Del Golf and the crème de la crème are the nine courses at Sotogrande, an elite residential and leisure destination in the municipality of San Roque. Sotogrande covers a 20 sq. Km coastal section along the Mediterranean Sea, stretching back into the foothills of the Sierra Almenara, with stunning views of the deep blue ocean, verdant rolling hills covered with cork forests and interspersed with pristine green fairways, a veritable golfer's paradise.
For a very average hacker like me, this experience was akin to a Go-Kart driver being thrust into the rarefied atmosphere of the Spanish Grand Prix! Over three days I got to experience some real gems from this Aladdin's Cave of riches including playing on La Hacienda Alcaidesa Links, the San Roque Club Old Course and the La Reserva Club course.
LA HACIENDA ALCAIDESA LINKS COURSE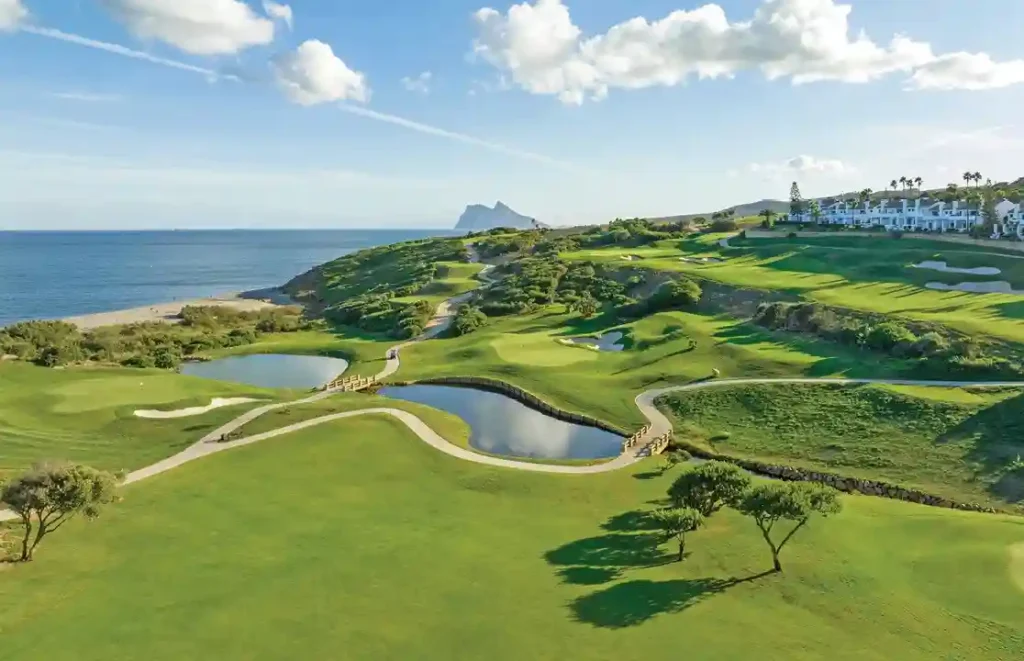 I started my Spanish tour with a round at the La Hacienda Links course, the only one of its kind in Southern Spain. Perhaps not the smartest move when just coming off an intercontinental flight and playing with rented clubs but then I had no choice and as all golfers know, it comes in handy to have something to blame for their poor game! The course itself is absolutely spectacular running along the cliff top before dropping away towards the sea with stunning views of the sparkling Mediterranean and the distant surf pounding on deserted beaches. And on the horizon, the magnificent Rock of Gibraltar stands alone by itself and provides a very useful marker when lining up your tee shot on some holes like #4 and #5.
When playing a tricky course like this local knowledge comes in invaluable and I was fortunate to be partnered with two English old-timers Peter and Keith who kindly took me under their wing and gave me the benefit of their expert advice and guidance. To make matters more complicated there was a brisk easterly wind blowing in from the ocean which the Spaniards call the Levante (since it comes from the direction of the sunrise) which required considerable adjustment in how and where you played the ball. In the end, I got around the course not losing too many balls and gratefully offered the friendly Brits a beer at the end of the round. It was a day to celebrate as Peter had just been blessed with a granddaughter much to the delight of Keith who took advantage of his partner's distraction to play a better round. With golfers, you always know what comes
first!
THE SAN ROQUE CLUB OLD COURSE
Next on my list was a club with a distinguished history as part of the original Holy Trinity of golf on the Costa del Sol along with Valderrama and the Real Club de Golf Sotogrande. Formerly the residence of the Domecq sherry family, the club opened its doors in 1991 and quickly rose to national prominence hosting the Spanish Open in 2005 on the Old Course and 2006 on the New Course. The Old Course was completely renovated in a sustainable way in 2021 by replacing the old rough areas with mulch which gives it a very different personality and design. It is a beautiful course that winds in a pleasant and smooth way surrounded by lush hills, majestic cork oaks and charming villas.
For me, it was a welcome respite after the rigours of playing on the links course the previous day to return to a more forgiving course where one could actually enjoy oneself! I was also delighted that they had found a young man who worked in the pro shop to accompany me around. His name was Jesus Sanchez Calvente so how could I go wrong with the Son of God as my golf shepherd – and one, as I was to find out later, who had been very highly ranked as an amateur?
The day was slightly overcast and breezy and I began to find my rhythm again. I was delighted to find that the slopes of the fairways were like polished marble – one time I found my ball which had been sliced to the left on the #4 dogleg had actually rolled down right onto the green for an unexpected par! Of course, it cuts both ways and I found myself on the edge of a diabolical green on #8 with a slight plateau in the middle where the hole was. Hit it too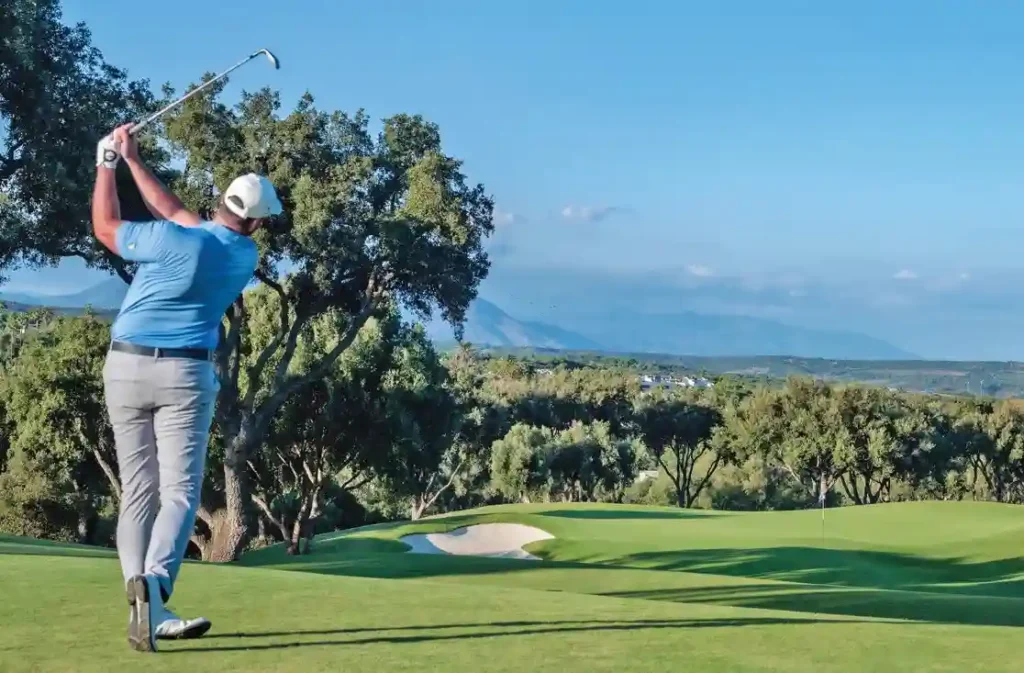 Playing costs of courses in Spain including buggy (in Euros)
–
–
9 Holes
18 Holes
La Hacienda links
Low season
High season
80
135
140
230
San Roque Old Course
Low season
High season
NA
NA
205
235
La Reserva
Low season
High season
108
140
195
240
gently and the ball would roll right back to where you stood. Hit it too hard and the ball would roll over and away down the other side. Several missed putts later I received the sign from God – picked up the ball and walked!
RESTAURANTS In Sotogrande
Restaurante Gastrobar Summum Steakhouse and tapas bars specialising in novelle cuisine tapas in the coastal village of Torreguadiaro.
Restaurante Sal Verde This restaurant is located at La Hacienda Links Golf Club and features Mediterranean cuisine presented with a very creative touch.
Restaurante Don Diego Sotogrande This restaurant situated in Sotogrande Marina specialises in the combinations of the best fl avours of Japanese and Peruvian cuisine.
Restaurante MarSana (Hotel Milla de Plata) This restaurant located in a unique spot overlooking the sea in the coastal village of Torreguadiaro specialises in fi sh and seafood.
Bar de Tapas Don Benito This traditional tapas bar is located in the historic centre of San Roque in an old 18th-century ancestral home with a delightful Andalusian courtyard
LA RESERVA CLUB COURSE
Mention La Reserva to Indian oenophiles and what comes to mind is a brilliant red wine which is rich and full with a velvety texture and lingering after-taste. The exact same description could be applied to the Sotogrande golf course of the same name – lush wide fairways that lead to large smooth greens with gentle undulations that leave you with exquisite memories of a wonderful game. I found this to be the easiest of the three courses that I played – you could see the pin from the tee on most of the holes which was a very good thing as I played the round unaccompanied.
La Reserva which opened in 2003 is regularly ranked in the Top Ten in Spain and has hosted many leading tournaments. It provides a great experience for golfers of all hándicaps with wáter featuring seven holes and enough bunkers to keep you on your toes but still prove enjoyable. There are significant changes in elevation as you move around the course but the sweeping fairways allow even the average golfer not to go too badly wrong.
I enjoyed this last game on my own but it wasn't quite intended that way. Initially, I had been paired up with a German Valkyrie called Theresa who was a golf coach. She was clearly a bigger and better player and when informed of my mediocre hándicap, sniffed and strode on ahead. On Hole #17 which was a beautiful long downhill par 3 I caught up with her as there was a bit of a pile-up of players and asked if I could hit alongside as only two holes were left. She pretended not to hear me and charged off downhill in her buggy. Her ball had landed right on the green but as I watched from the tee box, she proceed to three-putt and only that unique German word schadenfreude can describe exactly my feelings at the moment !!
Golf as a way of life:
All the courses I played had top-class facilities including a pro shop, driving range, changing rooms, fine dining restaurants, luxury resort or villa accommodation, swimming pool, kid's play area and so on. Golf is clearly a way of life in this part of the world and entire families descend on the Costa del Sol from all parts of Europe for a few days of fun in the sun. Special mention must be made of the state-of-the-art GPS-equipped buggies. These could be programmed for any given course to tell you the distance from the hole from wherever you landed and also had an automatic brake which slowed the buggy down anytime you approached too near the green. In the extreme case, the buggy engine would shut off completely and once I had to manually wrestle the thing into pointing back at the fairway – not something I would recommend!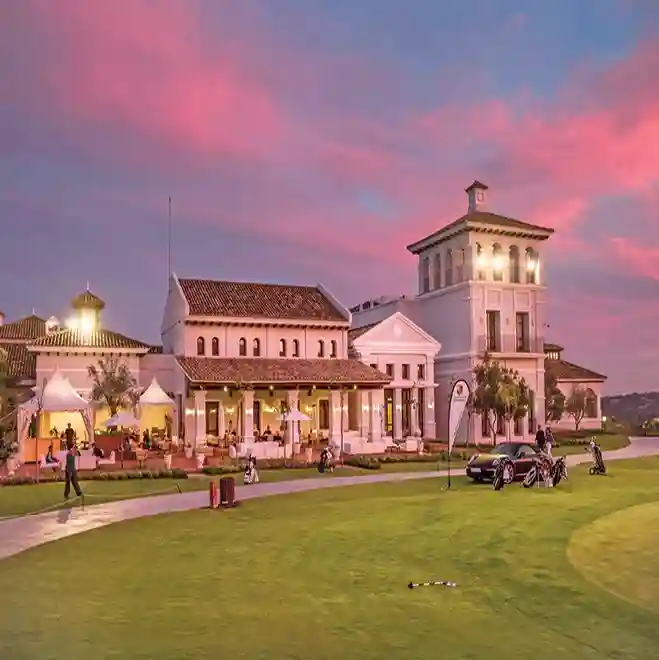 I also visited but did not play on two other top courses in Sotogrande: the famous Real Club de Golf Sotogrande which is one corner of the Holy Trinity I referred to earlier and the Almenara Golf Club which has three very diff erent 9-hole loop courses called Lagos, Pinos and Alcornoques. The little town of San Roque is also a hub for fi ne Spanish gastronomy and I visited some delightful little restaurants along the sea which I would highly recommend (see information box ).