MIND GAMES
By Karl Morris
www.themindfactor.com
Karl has worked with multiple Major winners.
Check out his Brain Booster Podcasts for free oniTunes
Whether it's a winter league knockout or a game for a fiver with friends, you must master a different mindset to be successful in matchplay
"Keep throwing pars at them…" Peter Alliss used to be fond of saying. "They all crack sooner
or later."
In typically colourful fashion, Alliss was effectively giving his opinion on one of golf's biggest questions: in matchplay, should you play your opponent or play the course? Alliss clearly favours the course… and I completely agree.
As always, I have to preface this advice by saying that if you are an excellent matchplayer – and have got that way by playing your opposition – then don't change your approach.
There are no one-size-fits-all
solutions in golf. But I believe that day-in, day-out, you will do better by playing the course… and here's why.
Imagine you are playing someone considerably better than you. They get off to a fast start, and you are 3-down after six.
If you start playing the opponent in this situation, you will almost certainly begin to push in an effort to match them, to take on shots that are probably beyond you. It rarely goes well…  and in doing so, your opponent will see they have rattled you. I'd expect them to stretch their advantage.
Now let's go the other way. You're outplaying an opponent who is having an off-day. This time the temptation is
to play the opponent, to play it safe, avoid any major mishaps in the knowledge that this will probably be good enough.
Giving yourself this mindset is an open opportunity to become sloppy and defensive, to bring yourself down to your opponent's level… and leave yourself vulnerable should they suddenly find form.
Now, in both of those scenarios, think of playing the course, not the person. You are sticking to your game plan, hitting the clubs and shots you are comfortable with.
Against the better player you are showing yourself to be impervious to their fine play… and there is no better way to answer it.
And if you are on top, by continuing to play aggressively even if the
situation does not seem to warrant it,
you're sending a strong message of confidence… both to your opponent
and yourself.
There is some room for manoeuvre within this, and
it relates to the final few
holes and the actual winning or losing of a match.
Clearly, if you are 2-down with two to play and your opponent hits it fairly close, there is no point playing safe. But until you reach these final, decisive stages, play the course and play your own game.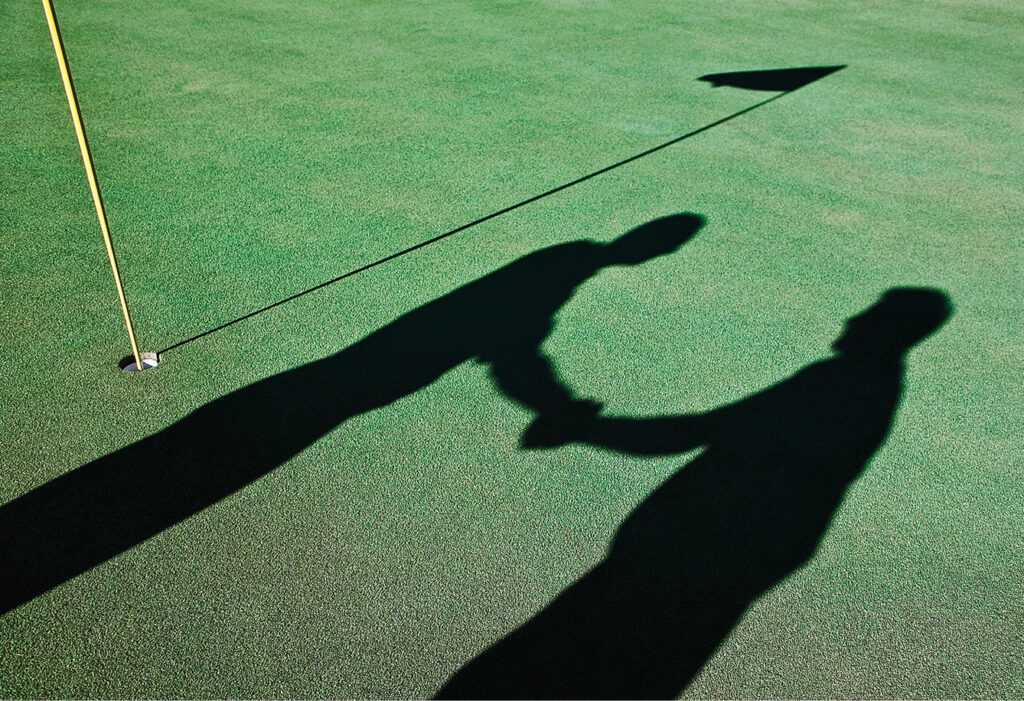 Playing matchplay… during strokeplay
Just as there is some merit in taking more of a strokeplay mentality into a matchplay encounter, it can also pay to do the reverse.
Imagine you are playing a strokeplay round. You are level or better than your handicap… and suddenly you throw
in a nine. Now in matchplay it really doesn't matter that much; you lose the hole, regroup, and focus on winning
the next one.
But in strokeplay, a sudden massive number has the power to see golfers give up. After all, the round has gone, right?
The fact is that it hasn't. Even with one horrible number in there, if you react well you can still finish strongly and post a score.
And a great way to bring about this strong, positive reaction is by playing matchplay against the course during a strokeplay round – pretty much the original game of 'Bogey'.
Work out where you get your shots, play against the course and see if you can beat it. This shrinks the relentless nature of strokeplay and ensures a big number does not feel so devastating. And if you ultimately beat the course 2&1, you will discover that even with that ugly nine in there, your strokeplay score will actually be pretty good.
I once gave a version of this advice to a tour professional who was a confident matchplayer but struggling in strokeplay. In his next tournament, 72 holes of strokeplay as usual, I gave him the ultimate matchplay challenge – to try to beat the better ball of his two playing partners, both of course excellent players.
This simple but very effective shift of approach saw him finish second in the tournament, his best finish for
more than a year. If you are having trouble posting a score, give it a go; it can create a more comfortable competitive experience, and instantly lead to better results.