When it comes to hospitality no country comes closer to perfection than Thailand offering something for everyone of diverse interest, every age and every budget. From pristine sandy beaches to lush jungles, bustling busy cities to traditional villages, Michelin star menus to roadside noodle stalls, historic Buddhist temples to 21st century sky scrapers, Thailand is truly amazing!
Amazing Thailand also has Amazing Golf facilities. Ideally located more than 250 golf courses throughout the country, by the sea, by the mountains, by the lakes, inside the cities even besides the airports. Top quality courses, reasonable green fees, friendly caddies. From the beach resorts in the south such as Phuket to the mountainous surroundings in the north or the bustling cities of Bangkok and Pattaya, there are golf courses to suit every preference.
To promote the Amazing Golf Experience, SLW, the leading Golf Management company had launched the first ever loyalty program for a country in 2017. 'Thai Golf Passport was launched in India to offer Indian golfers a seamless golf experience in Thailand. Indian golfers can be a part of this Amazing reward programs whenever they tee off in Amazing Thailand' said Mr. Anil Dev, Managing Director, SLW.' More than 250 quality service providers like Callaway and a number of Golf Courses, Resorts and hotels are on board as partners. While travel business took a hit due to Covid19, we are gearing up to make Thailand the destination of choice when travel resumes' he added.
Vachirachai Sirisumpan, Director, Tourism Authority of Thailand (TAT) New Delhi Office commenting that "Golf is one of the important segments which we focus on and continue to promote Thailand as Indian Golfer's favourite destination. In fact, destination diversity and vast choices of golf courses throughout the country are key factors attracting the large numbers of visitors coming to play golf in Thailand. I am happy to work closely with SLW to launch "Thai Golf Pass" – Season 4 and would be more excited to see all golfers joining the programme. I would like to take this opportunity and look forward to welcoming all Indian golfers to have first tee off in Amazing Thailand once the situation improves.
"Golf has long been the game of corporate and business people who are also avid travellers. Thai Golf Passport creates a membership that shares common values and interests, and at the same time provides an engaging golfing and networking platform for all stake holders-members and sponsors alike. We are excited to partner with this innovative initiative for the 4th season which helps us reach our customers directly," said Prashant Singh, Callaway Golf India.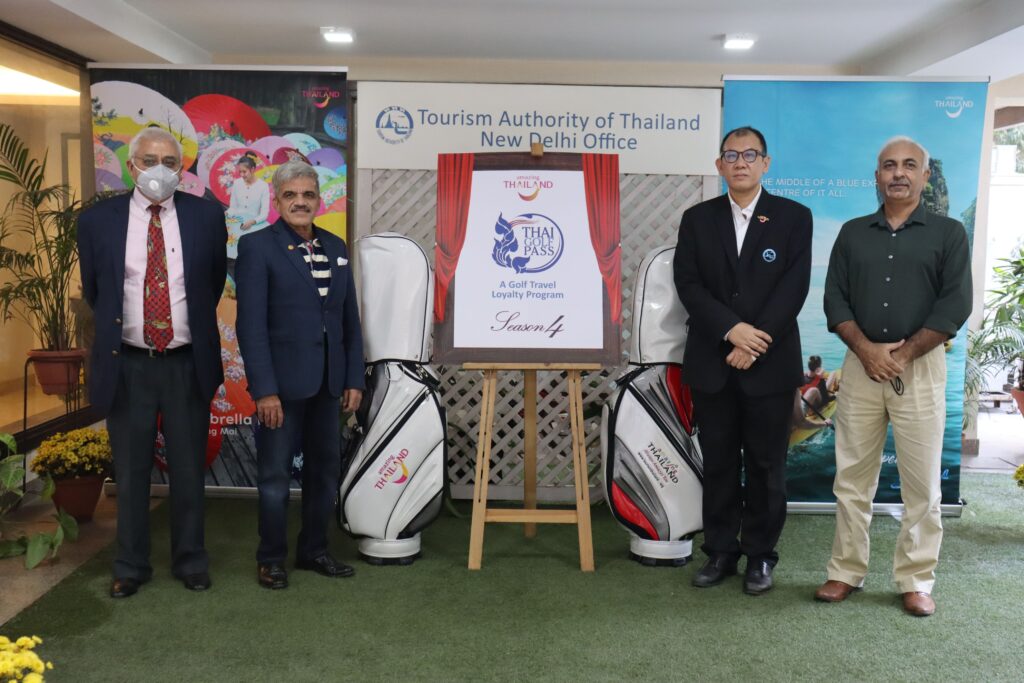 Commenting on the initiative, Mr. Chitranjan Bakhshi, Business Head, SLW Golf Holidays, said 'Thailand is the most popular destination got golfers from India. The Thai Golf Pass, which is supported by TAT, is a brilliant scheme to reward the keen golfers to experience this destination!
Daniel D'souza, President and Country Head, Leisure, SOTC Travel said "Our association with SLW enables us to showcase a unique side to the destination. We are happy to work with SLW to launch "Thai Golf Pass" – Season 4 and look forward to Indian golfers being a part of this programme. Thailand has been a favourite destination among Indian travellers for its pristine white beaches, thriving cities, rich culture, authentic Thai food and shopping." 
"Our association welcomes this move which is a program unique to India. While hotels and airlines have loyalty programs this will be a first of its kind where a Country has created such a program. We support all golf tourism initiatives and are sure that this will really encourage golf travel," added Mr. Rajan Sehgal, President Indian Golf Travel Association.
HIGHLIGHTS of the Program:
Thai Golf Pass is the first ever loyalty program for any country
Unique initiative by Tourism Authority of Thailand, New Delhi
A seamless golf experience exclusive to Thailand
Amazing rewards on redemption of loyalty points
User friendly online program
Brings all the suppliers under one platform
The inaugural season of the initiative saw the Website Launch, 2 Promotional events in India and an event in Bangkok, 83 Loyalty Partners, 2307 membership registrations. A total of 522 Golfers travelled to Thailand under Thai Golf Pass. 
In THAI GOLF PASS, SEASON- 4, The activities started from October2020with social media campaigns.
The Season 4 will see a number of roadshows pan India, a Promotional event in India with 2 events in Thailand. A survey of Indian Golfers, photo contest and a quiz also form part of the promotions being undertaken.
Website links:
Thai Golf Pass: http://www.thaigolfpass.com
Tourism Authority of Thailand: http://tourismthailand.in
SLW Golf: http://group.slwindia.com
Callaway Golf: https://in.callawaygolf.com
SOTC Travel Limited: https://www.sotc.in/