By Micheal Wilson
Over Thanksgiving weekend, following a whole heap of hype, US President Trump may have excused – as is tradition – one fortunate turkey from a fate worse than death, but down in the gambler's paradise of Las Vegas, another 'Turkey,' namely the shoot-out between two hitherto great golfers, 'The Match,' proved about as appetising as the traditional fare reheated and served up towards the 12th day of Christmas.
Way back in August last year, when the so-called, 'The Match,' was announced, the US$9m winner-takes-all head-to-head clash between two of the all-time greats of golf, a supposedly resurgent Tiger Woods, and his arch (some might say, 'bitter,') rival, Phil Mickelson, your Bunker Mentality correspondent, admittedly something of a cynic, billed this as a pre-Christmas turkey, a match to be missed at all costs, a contest redolent of artifice, a contrivance and an irrelevant one at that.
Let's not forget, firstly, that mano-y-mano, head-to-head, winner-takes-all golf matches are nothing new; throughout time, from the 19th century match-ups between gnarled bare-knuckle professionals, be-suited stalwarts eking-out a living from the royal and ancient game, the likes of Willie Park, Junior and Senior, Old and Young Tom Morris, have gone head-to-head, often over 10 – 12 rounds of golf, for a reported GBP100.00 (approx. US$130.00), a King's ransom back then, the inflation-adjusted equivalent of GBP12,500 (approx. US$16,000) today.
And older readers may recall the Shell Wonderful World of Golf challenge series, back in the 1960s, when golf and TV were first indulging in some serious foreplay, Ben Hogan versus Sam Snead the highlight, US$5,000 on the line, Gene Littler against Byron Nelson another epic contest, like Woods and Mickelson, aging stars but set against a different televisual backdrop.
And, out Asia way, there has been no shortage of filthy-rich tycoons willing to shell-out tens-of-millions of greenbacks on vanity golf shoot-outs such as the bizarre, one-off, multi-million-dollar Shui On Land China Golf Challenge behind the Great Wall of China in 2011.
True, Woods and Mickelson were, without question, icons of their own era, especially Woods, considered by many to be the best of all time, his rival Mickelson widely judged to be right-up-there with the best, their rivalry used by the PGA TOUR as a hook on which to hang its product for a generation and more, the relationship between the two said to be lukewarm at best, loathsome at worst.
With 122 PGA Tour titles and 19 'Majors' between them and combined on-course earnings in excess of US$200m, Woods and Mickelson – both long inducted into golf's World Hall of Fame – are entitled to great credit for their individual and collective contribution to to the game of golf.
For they assisted not only in keeping the game afloat throughout choppy economic waters but also contributed to help grow the game exponentially over a period of participatory decline, Woods the central character, Mickelson the supporting act, their hostility – real or imagined – a driving force in increasing prize funds, especially on the PGA TOUR.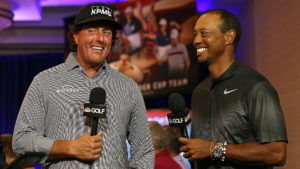 But that was then and this is now.
Woods, plagued by a career-threatening back injury in recent years, has not won on Tour since 2013, Mickelson, for his part rolling back the years with a surprise victory in the 2018 WGC Mexico tournament, his first visit to the winner's enclosure since 2012, 'The Match' taking place in the shadow of the USA's humiliation in the Ryder Cup in which both men failed to fire.
Social and conventional media ramped-up, 'The Match,' in much the same way as legendary boxing impresario Don King might have done a world heavyweight title fight, but boxing is gauche and glitzy, whereas golf is altogether a more subtle, understated commodity, totally unsuited to the flashy and flamboyant build-up to fight night as its pugilistic cousin.
News in the week leading-up to the so-called showdown that Mickelson had placed a cheeky side bet of US$100,000, wagering that he would birdie the opening hole at Shadow Creek in Las Vegas – having earlier reportedly backed himself to win outright with a US$200,000 punt – is not only contrary to golf's carefully constructed conventions on gambling, but also shone an uncomfortable and unfortunate light on 'Lefty's' alleged penchant for laying odds and taking a punt.
'The Match,' as it transpired, fell some way short of expectations, on course galleries in Las Vegas were modest, celebrities such as actor Ben Stiller and fellow golfers Rickie Fowler and Michelle Wie highly-conspicuous, very much to the fore.
Meanwhile, pay-per-view TV proved something of a disaster, tens-of-thousands of subscribers paying US$19.99 for the privilege of tuning-in to the spectacle of two latter-day greats – now present-day has-beens – battling it out, had-to-head, are said to be set to receive refunds as they were unable, apparently for technical reasons, to access the live telecast.
Before a jury of their peers, 'Tiger v. Phil,' failed to gain pass-marks, former world number-one Rory McIlroy observing on social media, "If they had done it 15- years-ago it would have been great, but nowadays it's missed the mark," although it should be remembered that the Irishman was happy enough to trouser a seven-figure-sum for his participation in the infamous Shui On Land China Challenge in 2011.
Further criticism of, 'The Match,' came from another man never slow to turn a dollar or two, 2010 Ryder Cup captain discovering a rare – and newly found – sense of altruism.
Monty said during a recent visit to his charitable foundation in Scotland, "The amount of money involved was obscene, when there are other issues in the world," adding, "I would have loved the winner [Mickelson] to have announced they were giving the cash to charity.
Monty was also discomfited by the significant role played by betting in the event, which was staged in the heart of the global gambling industry, Las Vegas, commenting, "As someone who is not a gambler, I was disappointed that they were having side bets," concluding, "It doesn't seem right."
The record, for what it's worth, will show that it was Mickelson who won the inaugural edition of 'The Match,' holing out for birdie (having lost his six-figure stake by failing to break par on the first) on the fourth extra hole, a makeshift 93-yard Par-3, to claim the US$9m prize.
Charles Barkley, an NBA basketball legend who was inexplicably part of the HBO commentary team, labelled the action, "Crappy," but what about the protagonists?
Tiger's tongue was tied, but winner Mickelson, seemingly speaking for both combatants commented, "We enjoyed it but I guess it will depend on if people enjoyed it," adding, "Maybe it will be something people are interested in and want more of and bring people to the game."
Meanwhile, defenders of "The Match" say charities benefited to the tune of US$800,000 – the amount raised through successful side bets, which did little to add to the tension, but winner Mickelson showed no signs of handing over any of his US$9m winner's purse.
Bunker Mentality's summing-up of, 'The Match', Tiger Woods vs Phil Mickelson, is that it was a tawdry irrelevance, a shameless act even by Las Vegas standards, especially against the backdrop of the awful forest fires wiping-out lives and homes in the pair's home state of California, not a dime offered by 'Lefty,' enriched to the tune of US$9m, for this or any other cause.
Will we see a rematch, Tiger vs Phil, the sequel?
Hopefully not, but where there exists both an amenable buyer and a like-minded seller, especially around the vulgar, ostentatious Las Vegas strip, there's a market, so don't bet against it.