By Randy O. Williams
Golf courses all around the world may differ in terms of difficulty, weather conditions and terrain, but most have one thing in common – their dress code and that almost universally means a collared top.
When the subject of shirts is brought up, since we tend to think visually, it inevitably seems the first things that come to mind are colours and patterns. And for golf tops, the same holds true. So, to tee off this story, let us take a look at what is trending in that area. Looking beyond the standard solids, with such eye-catching patterns
look at what is trending in that area. Looking beyond the standard solids, with such eye-catching patterns being introduced with names like Blue Giraffe, Afternooze and Peace Flowers (see story images), a good place to start is the Loudmouth Company. An apparel manufacturer that prides itself in appealing to the golfer who embraces a free and dynamic spirit, sartorially speaking, a player that tosses all rules out the window, we're informed about what is actually trending is something that goes
beyond shirts.
"Clearly, people are looking for more and more bold patterns. Although we are the leaders in patterned pants and shorts, our client is asking for increased options with matching tops and sets," stated Loudmouth's CEO, Andrew Seibert. "This allows for additional outfit opportunities while travelling and makes it very easy to match. This is not simply a golf thing, but you can see this trend across all of fashion right now and for Loudmouth, this is something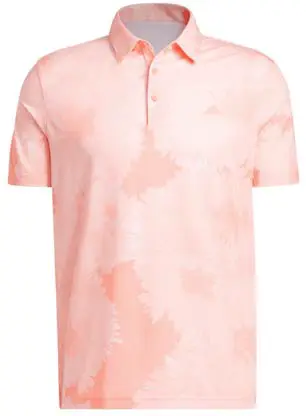 The Flower Mesh polo from Adidas allows you to move freely and when you need to reach back for that big swing its four-way stretch will help you get there.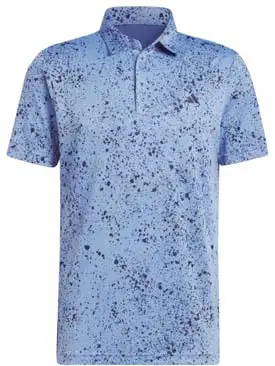 Besides being eye-catching, this Jacquard polo from Adidas is quite functional. Featuring a four-way stretch that provides a full range of motion, this shirt also offers moisture-wicking fabric and is ventilated to help with breathability.
The Spring 2023 Men's Comfort Fit Saguaro Polo from PXG offers unparalleled comfort and performance in a new, cactus-inspired PXG print. The moisture-wicking fabric offers quick-dry and UV protection functionality, with perforated colour block sleeves for enhanced airflow.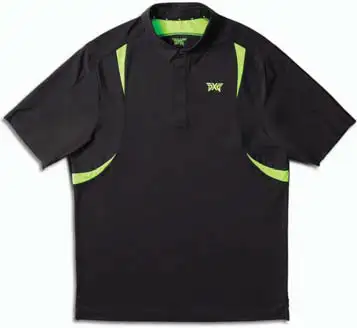 Airo Lightweight Polo: The Spring 2023 Men's Comfort Fit Airo Lightweight Polo isn't just airy and light, it's packed with an impossible amount of performance technology. Quick dry, pilling resistant, four-way stretch, it's got it all. And when you add design features like perforated sleeves, pebble texture body, and hidden snap plackets, you might just have the perfect polo.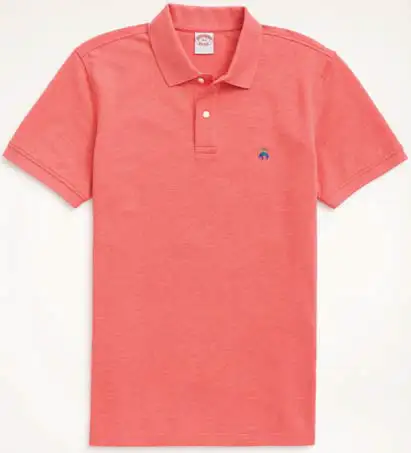 The new Golden Fleece polo from esteemed clothier Brooks Bros. is now out and available in many long-lasting colours that will not fade over time. From a company known for great craftsmanship producing apparel that is comfortable and durable, this style is knitted from pure American-grown Supima cotton with spandex for a superior feel. Its great performance finish enhances shape retention while resisting shrinking and pilling.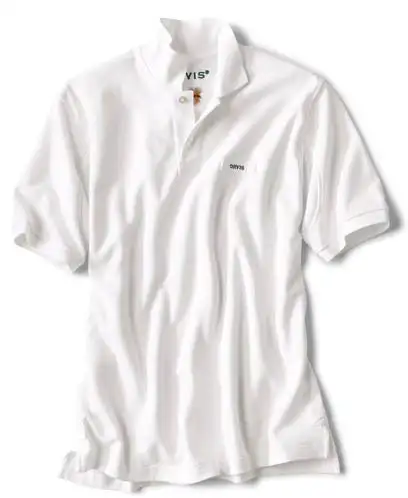 The Orvis Signature Polo Shirt now with performance tech upgrades including UPF 50+ sun protection has the feel of both luxury and durability (no wonder they call it their "signature" shirt). Available in over a dozen colours and print designs, the secret behind all the science is that it is made of cool piqué fabric that is knitted in organic Peruvian cotton with a soft hand. A great feeling of comfort on and off the course.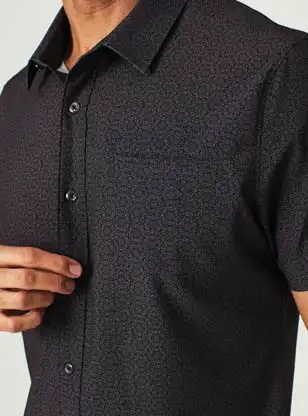 The Praia short-sleeve shirt from 7 Diamonds has a luxury look, but at the same time it is performance wear that features a 4-way stretch, is moisture wicking, and is wrinkle resistant.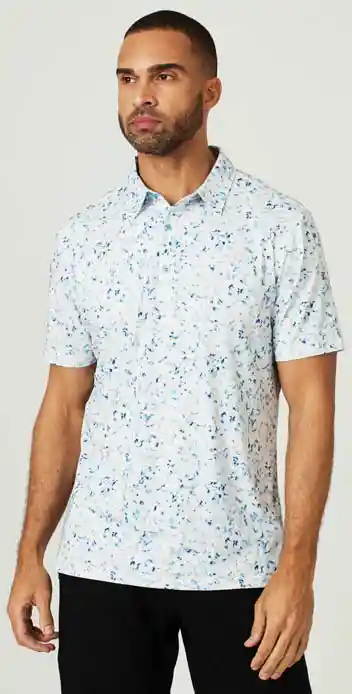 The Colin Polo from 7 Diamonds….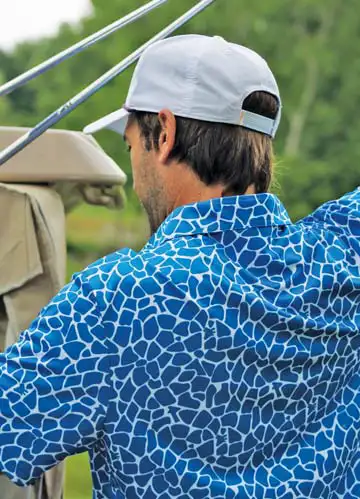 The Breezy Blue Giraffe polo from Loudmouth provides a different artistic element to your golf wardrobe. And on top of that it is super lightweight, stretchy and with a breathable fabric that makes this polo the easiest thing you'll wear all day.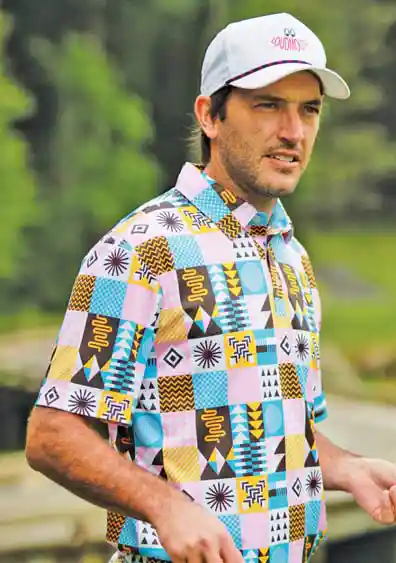 The Afternooze polo, with its eye-catching design, will make you stand out wherever you go. And being quite lightweight and breathable, you will feel comfortable all day.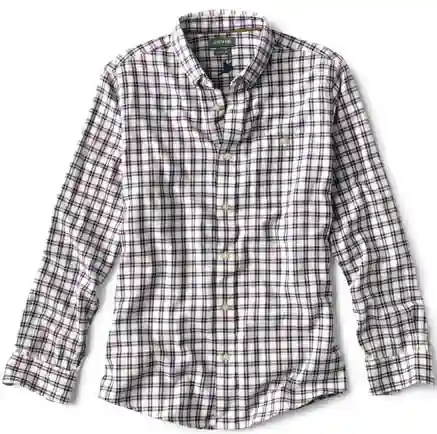 The Country Twill Long-Sleeved Button-Down Shirt from Orvis features a pure, 4-oz. cotton twill that is brushed soft and offers a sophisticated addition to a casual wardrobe. The British are famous for their checks and tattersalls, so with these classic patterns, you'll find they are a perfect complement to your favourite vest or sweater.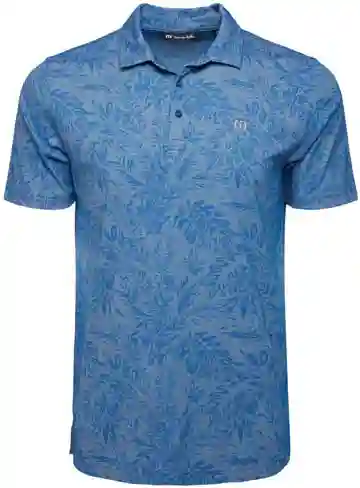 Made of a poly-cotton combo, and with an all-over, tropical-inspired palm leaf print, the FOREVER YOUNG polo will become an easy favourite for any occasion. Built-in collar stays for the perfect shape.
we do so very well so the more color, the better!" Well after you spot a solid-coloured or patterned shirt on the rack that catches your attention, the next step is one of the most important, to make sure it fits! But that has different permutations too, because while we know not everybody comes with the same body shape and size, there are also different preferences in how it wears. "Fit to Be Tied" is an expression with a double negative meaning for the game of golf. Obviously, you don't want to play in a rage and you don't want to have such form-fitting
tops that you can't breathe let alone make a backswing just so you can show off your abs rippling through your shirt. And since there really is no strict standardization between brands, it is a good idea to have a general understanding of sizing before you buy (especially if you do it online). Generally speaking, there are three categories: Athletic fi t-shirts feel tailored and hug the body; regular fit typically means true to size and feel "fitted" but looser than their athletic alternatives; and relaxed fi t-shirts are the loosest fi thing of all (but also tend to focus more on comfort over
performance). Certainly, it is about personal taste, but one element regardless of fit preference is the importance of fabrics. And the one word you hear over and over is s-t-r-e-t-c-h. "I think the big word here is stretch," said Seibert. "Customers seem to find comfort in additional stretch allowing for increased movement and more flexibility during the swing. I also think a shirt with a lot of added stretch will have a smoother hand feel so customers simply find the shirt more comfortable overall."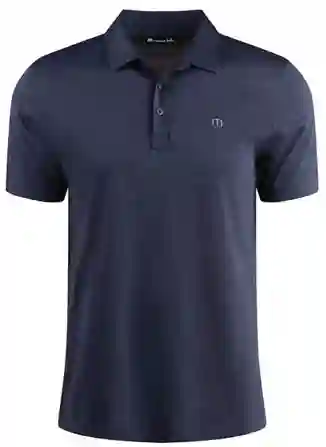 The Zinna Polo from Travis Mathew uses a poly-cotton blend that provides a distinct level of comfort. Being featured as part of the company's Must-Haves collection should tell you something really good can be part of your wardrobe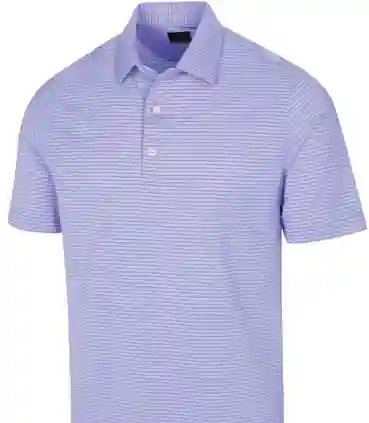 The Freedom Micro Pique Classic Stripe Polo from the Greg Norman Collection is just that. A classic design but with the latest in performance wear technology. It offers advanced moisture-wicking performance with a luxury look and feels.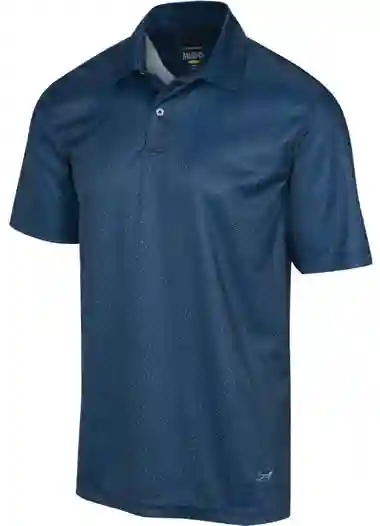 The ML75 Lab Fin Foulard Polo allows you to stay cool, comfortable and protected from the sun. Featuring state-of-the-art wicking fabric and stretch materials, you'll perform in comfort.
Spandex or elastane are often added to increase stretchability and durability. And related to the durability quotient, with the better-quality shirts selling at premium prices, multifunctionality is also at play here as many golfers look for something they can both play golf in then step off the course and still look good and fresh (don't forget the higher-quality manufacturers include advanced antimicrobial properties) so that your quite comfortable socializing at the 19th Hole or dining out with friends right after your round.
"We have a deep understanding of producing a garment that works for whatever the day or night has in store, playing a round and then heading off to the evening festivities, or in a business casual environment for work and then out to the range to get some practice in," noted Greg Marshall, CEO of 7Diamonds. So, when you think you've found the garment that checks all your boxes, how do you measure its quality? What kind of 'bang for your buck' are you getting? How do we know we're buying a premium product?
"We always recommend looking at the "inner beauty" of any garment you purchase," suggested Marshall. "Turn the garment inside out and look to for the quality of the needlework and finished treatments. You can tell the craftsmanship and care that goes into the product." Whatever your budget, fit, fabric and color preferences, shirts are the part of any golfer's wardrobe that presents the best opportunity to change your look, sometimes if only to change your luck on the course!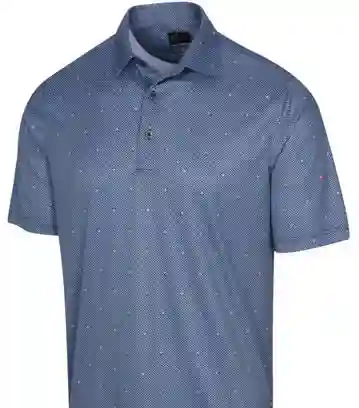 This new Jacks Print Polo is a high-performance shirt that features industry-leading ML75 technology that produces advanced moisture-wicking performance in a stylish design.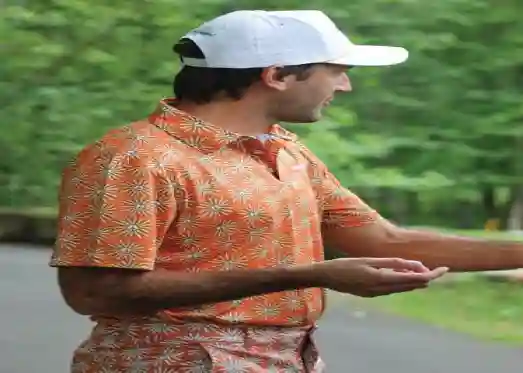 Bring a little "peace" to your game with this distinct Peace Flower Shirt. The earthtone is versatile with many colors and it features several performance-enhancing components.