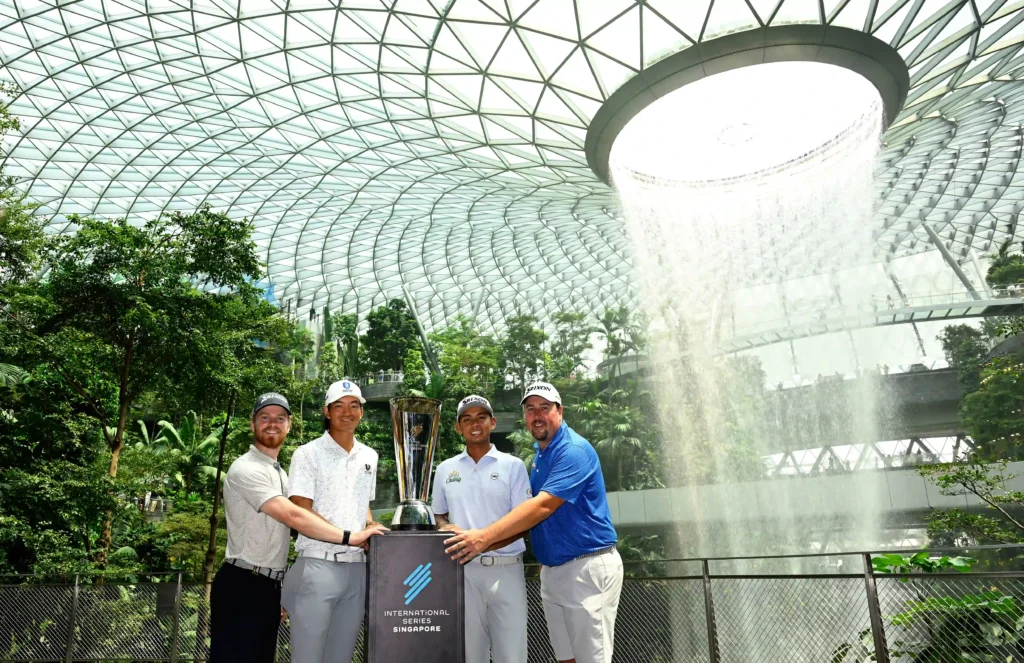 Kieran Vincent of Zimbabwe, Taichi Kho of Hong Kong, defending champion, Nittihorn Thippong of Thailand and Jaco Ahlers of South Africa pose with the winner's trophy at the Jewel Changi on Tuesday, October 3, 2023, ahead of the International Series Singapore at the Tanah Merah Country Club (Tampines Course). The Asian Tour event is staged from October 5-8, 2023. Picture by Asian Tour.
Kieran Vincent, Taichi Kho, Nitithorn Thippong & Jaco Ahlers
The International Series Singapore is taking place from 5-8 October, with the players battling it out for valuable International Series Order of Merit points.
2023 International Series Vietnam winner Kieran Vincent, Asian Games gold medal winner Taichi Kho, International Series Singapore defending champion Nitithorn Thippong and the winner of last weekend's Mercuries Taiwan Masters Jaco Ahlers discuss the week ahead and their recent success.
KIERAN VINCENT
Kieran welcome to Singapore, you made your debut here on the Asian Tour at this event last year. How would you sum up the past 12 months?
The last 12 months have been awesome, there have been a lot of up and downs but just to be able to find myself back in familiar territory is awesome. This was my first tournament on the Asian Tour so it's just so surreal to be back here looking back on the last 12 months and how we've been on an adventurous ride.
We have been able to not only put a win under my belt but just to be able to secure status out here has been so awesome so I am just so thankful of the opportunity that we had last year and just grateful to be back again so excited for the week.
Tell us a little bit about your form coming into the week. How are you feeling?
A lot of people would look at the statistics and say back-to-back missed cuts is probably not the most ideal situation but I think before that I played in Korea and was able to secure T6 there so I have some sort of form coming into this week.
Being able to come back to familiar territory brings about a different perspective. So as we talk about the ups and downs for the whole year you go through those so it only takes one round to flip the script so I am excited for those things to happen because I have been so close. So it's just about putting a round together and I know that's going to happen sooner rather than later.
Has winning in Vietnam put any added pressure on you?
Not necessarily, that win was so awesome. I look back on it and it's been a real cool thing to have in your rearview mirror but just to be able to be back here and be able to play some golf again is just so cool, I think everyone has somewhat of the same chances each week and I'm just looking to play some good golf this week and see where it gets us.
Can you tell us about the goals you are setting yourself?
I think goals are goals, the whole golden ticket, LIV stuff, and being able to finish the number one in the Order of Merit would be great. I think to be able to just improve as a person would be crucial, I think my game has definitely improved over the last 12 months but just to be able to improve more would be something I would like to do, just to be able to get better and better as the weeks go on I think to be able to close out this year and say I've played some of my best golf would be something cool to say.
Does it give you immediate hope for this weekend?
I mean everyone would like to lift that jug but I think to be able to go out there and set up a game plan and be able to execute as best as possible that's just the number one thing I can do, take each shot at a time and control the controllables and take it from there.
TAICHI KHO
You come into this event having just won a gold medal at the Asian Games. Just talk to us a bit about that. What was that like?
Winning the gold medal at the Asian Games was super special for me. To be able to represent Hong Kong and play alongside my teammates, my coaches and my captains was incredible.
I think a lot of times in professional golf you play for yourself, but this time it was playing for something bigger than myself and just to have that rare opportunity was such a privilege and to come out on top at the end of the week was the cherry on top.
That must give you confidence coming into this week, knowing that your game is in a good place?
Definitely. I do feel like my game is trending in the right direction. It has felt really good since International Series England so it's really good to see it moving in the right direction and to have a win there was really special.
You talk about the International Series England. You finished in the top 10 there, what was that like to put in a good solid performance on The International Series stage?
Having a strong performance at International Series England was a real confidence booster for me. Playing on The International Series events is really what you want to do on the Asian Tour schedule – it's rated so highly with the strongest competition and the biggest purses so for me to have a strong finish there was a real boost for the year.
What are the goals for the rest of the year?
I think my goal for the rest of the year is just take each day as it is. Try to get a little better each day and I'm sure the results, the money and the rankings will just take care of it and I'm just focusing on doing my best each day!
NITITHORN THIPPONG
You come into this event having won last year, are you full of confidence knowing that you could potentially do it again?
I am looking forward to it but right now I am not in really good form so I am just trying to bring my confidence back, but I am always excited.
It is my second time to try and defend a title, my first one was in India (DGC Open) and the second one is here this week so I'll try my best.
What happened last year? Can you talk us through it, was it a case of everything just coming together at the right time?
Last year I played really great golf all year and I had a lot of confidence in myself and everything just clicked!
Talk to us about the course (Tampines Course), do you think it suits your game?
Really good. I think you have to hit a mid-iron or a long-iron really well and your putting also has to be good I think the putting game was okay for me so I knew it was going to be fine.
Do you look forward to on The International Series tournaments on the schedule?
Yes! I haven't played well on The International Series events so far this year and there are four more events of 2023.
I think I can finish in the top end of the Order of Merit and hopefully get into the Promotions Event at the end of the year.
JACO AHLERS
Jaco, congratulations on your win at the weekend, 48 hours later has it sunk in yet?
Thanks, it's been a bit of a whirlwind 48 hours, but it hasn't really sunk in yet. I got on a plane Sunday night, came here, walked the course yesterday and my wife arrived to be on the bag this week so not really no it will probably sink in next week.
Last week it was a difficult course (Taiwan Golf and Country Club) how are your energy levels coming into this week?
It is a bit low to be honest, two weeks in Taiwan and it was pretty hot, energy levels not too bad so didn't do too much yesterday and took it easy, saw the physio so ready for another week!
You said you liked playing on tough course, like the Tampines course this week, what it is about tough courses that makes you raise your game?
Yeah, I like difficult courses – just the fact that level par is a good score. I don't think that will be a good score this week, I think it will be a bit lower than last week but yeah it's just a course when you have to grind it out and I like grinding it out – it's just the type of course I like playing.
You also said last week you are comfortable playing in Asia, tell us about your history and the adjustments you've made over the years?
I've been comfortable in Asia for a while, I can't really put my finger on it as I've been on and off since 2015. Last week's win has changed a lot I can plan a schedule, I don't mind the heat, I grew up in the heat and it's just a climate I feel comfortable in.
Tell us how you feel about playing on The International Series – is there a different preparation for playing in an elevated event like this?
I think the preparation is pretty much the same, but it is just nice to be treated like a world-class player. The course is world-class, the setup is world-class, the food is great, the hotels are good, it just feels amazing to play in these events every year.