Microgravity Ventures Private Limited, a facilitator of world-class gaming hubs and eSports tournaments in India, has partnered with Sports & Leisure Worldwide (SLW) to host Microgravity Corporate Masters, India's biggest Indoor Golf Tournament Series. The first of its kind Indoor Golf Tournament series is now open for registration with a nominal fee of Rs. 3,000 per player and will kick-off on 20th November with hundreds of golfers and enthusiasts taking a swing on the latest state-of-the-art indoor golf simulator at one of the most iconic courses in the world, Pebble Beach Golf Links. The tournament will be held on 20th, 21st, 27th and 28th November at Microgravity, 1st Floor, JMD Empire Square, MG Road, Gurgaon.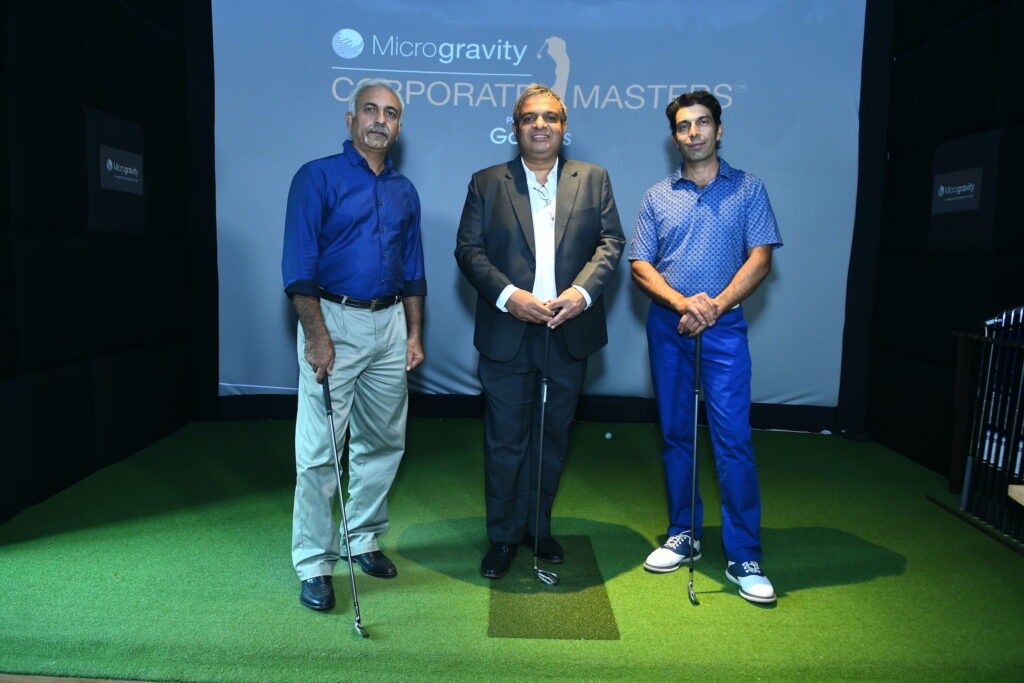 Microgravity and SLW Golf Management will announce the winners of the thrilling tournament on 28th November followed by prize distribution across exciting categories like Winner Gross Men & Ladies, Winner Nett Men & Ladies, Runner-up Gross Men, Runner-up Nett Men, Longest Drive Men & Ladies, Closest to the Pin and Straightest Drive. To add-on to the exhilarating experience, all Winners will also get a chance to immerse themselves with their family for a full day with the best of unlimited gaming at Microgravity's gaming hub.
Talking about the tournament, Mr Rahul Bhattacharya, Co-Founder and MD, Microgravity said, "We are very excited to partner with the best in the industry for our upcoming tournament series. These tournaments will bring the best Golf technology with the best of Golf courses from across the globe. It is exclusively designed to fuel the growth of the sport in the gaming ecosystem. At Microgravity's state-of-the-art indoor Golf simulator, players can not only gain a better understanding about the sport but also have a safe and immersive experience while being carefree about the weather conditions. The Golf community in India needs support and motivation to pursue their passion, and we want to offer just that. Our aim is to provide the best learning and playing experiences to anyone and everyone who is a Golf enthusiast. The pre-registration phase has already seen great success among the golfing fraternity. We are proud to present India's biggest Indoor Golf Tournament Series. We look forward to an exciting tournament and wish all the participants the best of luck."
Commenting on the partnership,Anil Dev, CEO, Sports & Leisure Worldwide, said, "It gives us immense pleasure to be a part of an indoor golf tournament series which is a great step in promoting golf and help people gain expertise in the sport. Microgravity is a unique gaming hub that offers high quality and immersive gaming experiences with the best of safety features. With this tournament, we are entering the new era of indoor Golf which will be a great value addition to take the golf experience to the next level."
"We at IGPN are thrilled to announce our partnership to run a professionally managed golf programme with certified 'A' level instructors like Arun Kumar and help people enhance their skills in Golf. Microgravity is a purveyor of safe and immersive gaming hubs and IGPN Academies believe in having fun and falling in love with the game of golf. We are confident that with this partnership we will usher in a paradigm shift in the world of Golf. These programmes are well established, tried and tested for all levels of golfers. These coaching techniques are also at par with international standards. The top of the line golf simulator at Microgravity arena provides data on ball flight and swing analysis. This helps the coach and player get great feedback from swing path, club head rotation, spin rate, spin axis, smash factor, launch angle which accelerates the rate of learning and make the experience more interesting and enjoyable. The world is going through unprecedented changes and it would be safe to say that with this initiative by Microgravity, we are ready to embrace the new era of Golf in India." said Monish Bindra, Founder & CEO, Integrated Golf Performance Network.
Microgravity Corporate Masters, powered by SLW Golf Management is a call out to Golfers and Corporate folks to come, experience and take a swing at one of the best Golf Simulators in the world at one of the most iconic PGA certified courses, Pebble Beach Golf Links.