After a Covid-19 induced lay off from our beloved sport, we have all finally been able to flock back to our local golf courses (whilst still social distancing and following due precautions of course) and it has been truly blissful. However, despite golf courses opening around the world, competitive golf on most tours is yet to see a return. The sheer magnitude of travel logistics and safety protocols required to conduct an event has halted most tours in their tracks- both men's and women's alike. The one tour that has been able to re-start however is the PGA tour in the United States. It is one of the first major sporting leagues to make a comeback and is being used as a litmus test of sorts to bolster the return of other notable sports in America such as baseball and American football.
There's not much more a golf fan could have asked for from the first three weeks of post-quarantine PGA Tour golf. The Charles Schwab Challenge, RBC Heritage and Travelers Championship were heavily star studded with most of the top players coming out of hibernation and making appearances at events that do not usually feature in their yearly tournament schedules. There have definitely been a lot of compelling storylines to follow. But if you haven't been able to keep up for whatever reason, you needn't worry! I've compiled a short list of some of the biggest takeaways from the return of golf that you can easily slip in as conversation starters in your upcoming weekend four ball. Here goes:
The Covid Effect
(I promise this is the last mention of the dreaded C-word before we get to the fun stuff)
Despite all the precautions taken by the PGA Tour, five players and two caddies tested positive for Corona virus. In itself, the news was not a shock. With 300-odd players and caddies competing in a given week, it was bound to happen at some point. The PGA tour has made their best effort to contain the possible spread of the virus and their policies seem fairly sound. But with the players travelling across the country on a weekly basis and coming in contact with many unknown externalities, the virus threat on tour is far from over. It is impossible to remove all risk, but I'm sure the tour will continue to try and strengthen their protocols in order to manage the virus.
The development of the pandemic and its impact on the rest of the season still remains to be seen. However, the road back to normalcy, both for the tour and for sports in general seems arduous.
The Layoff Effect
How did the three-month hiatus from competitive play affect the games of the top players in the world? Some appeared to be a little rusty, while others successfully carried over their momentum from the first half of the season.
Backed by some impressive play, Daniel Berger was able to earn his first title since 2017 in the first week back at the Charles Schwab Challenge and a late run of birdies at the RBC Heritage nearly allowed him to steal another one. With his remarkable play over the last few weeks, Berger was able to continue his streak of 28 straight rounds of par or better from before the layoff (the longest active streak on the tour) as well as add two more to his running stretch of top 10s in this year's season.
Webb Simpson, who had already won the Waste Management Open this season, was in the process of piecing together a solid 2020 campaign pre-quarantine. He hit a minor roadblock with a missed cut at the Charles Schwab Challenge, however, was able to instantly bounce back and add a seventh title to his repertoire the week after. His consistent iron-play was backed by a formidable week on the greens- making 56 of the 57 putts he faced inside seven feet. Post this win, Simpson is now ranked 6th in the Official World Golf Rankings and the trajectory of his career looks to be on a sharp ascends.
It is also a reasonable assumption that the unexpected time off could have helped some players back on track by giving them much needed space to clear their heads and work through various aspects of their games. It goes without saying that the man at the forefront of this group is none other than Jordan Spieth. His 65-65 start at Colonial had the golf world abuzz with the age old "is he back?" question. While there were some encouraging signs of resurrection, the last two weeks were a classic display of him "Pulling a Spieth" as I call it. Allow me to explain: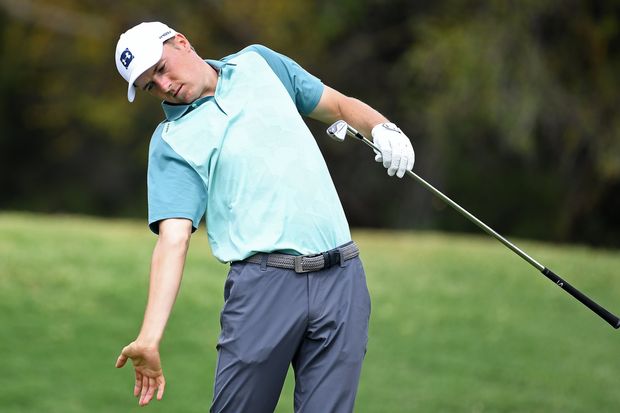 Pulling a Spieth
Being exceptionally erratic by immediately following something remarkable with something abysmal or vice versa, thus constantly keeping everyone on their toes.
Usage: I started my round with a triple bogey today but made 6 birdies in a row to shoot a back nine of 29. Definitely pulled a Spieth there!
His T-10 finish at the Charles Schwab Challenge could definitely signal a turnaround, but it's too soon to say anything with certainty. Either way, I'm excited to strap in and enjoy the roller-coaster ride.
The break also seemed to have come at an opportune time for Dustin Johnson, who was able to capture the 21st win of his career at the Travelers Championship. After a lackluster start to the season owed possibly to some cartilage damage in his left knee, DJ started the week outside the top 5 in the world for the first time since 2016. He was able to rally back after being 1 over through 12 holes and ran off a stretch of 20 under over the remainder of the week.
During the three-month hiatus it seems DJ was not only able to recover from his injury by taking some time to rehabilitate, but was also able to put in some solid work with the short-stick. He came into the event ranked 134th in strokes gained putting this season but ended the week 4th on that list to close out a drought-ending triumph at TPC River Highlands.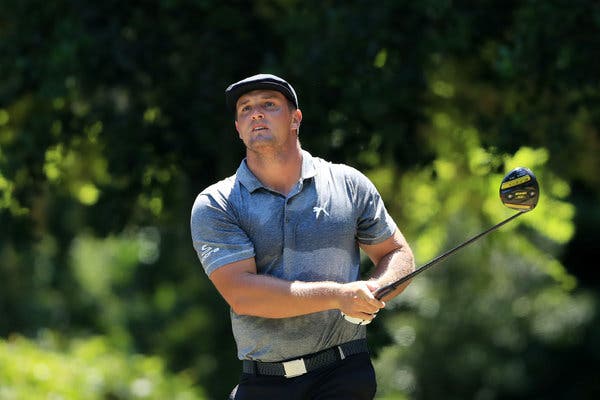 Bryson's Big Bulk-up
(Try saying that 5 times really fast)
This definitely deserves a section of its own. At this point "Big Bryson" was become somewhat of a meme after bulking up to a ludicrous degree. He gained about 25 pounds in the past three months and has been bludgeoning the ball over most obstacles on the golf course. Though easy to poke fun at, the bulk up project might have some legitimacy. His results have been undeniably impressive- posting three top 10 finishes in the last three weeks despite having below average putting weeks. He led the field in driving distance with a thumping 10 drives over the 350 yard mark and finished in the top five in strokes gained off the tee all three weeks. Bryson has always done things his own way. This time he has identified the part of the game that yields the most advantage and has attempted to milk it for all its worth. Whether his approach is sustainable still remains to be seen but based on his recent performances, he seems dangerously close to unleashing his full potential and the anticipation of what is to come is keeping golf fans on their toes.
Funnily enough, at the other end of the body transformation spectrum was Gary Woodland. Woodland lost 25 pounds over the hiatus in order to enhance his endurance levels and be able to play ten out of the upcoming thirteen competitive weeks. Bryson and Woodland seem to have adopted drastically different outlooks to their quarantine fitness regimes, but hey each to their own right? It'll be interesting to see if these body transformations serve their intended objectives in the long run.
Mic'd up players
This one rounds out my list as an honorable mention.
In the absence of fans, to ramp up the entertainment value, the tour decided to mic up some of the players to give the viewers an "inside the ropes" experience of their rounds. While banter akin to the Tiger Woods vs. Phil Mickleson match wasn't on display, and expectedly so (it was after all a routine PGA Tour event), the player-caddy conversations and players' reactions to their own shots were insightful to hear. As a professional golfer, I welcomed the opportunity to garner a deeper understanding of how world-class players think on the course and the reasons for some of the decisions they make. I'm sure these snippets were fascinating for regular club golfers and casual golf fans as well.
All in all, it has been a riveting few weeks in the world of golf and I'm definitely intrigued to see how some of these narratives play out. I hope you enjoyed my short recap and were able to glean some engaging talking points for your next round.
Happy Golfing!