By Rahul Sood
It all began when Ms. Siobhan McManamy, Director of Markets, Tourism Northern Ireland, came a-visiting Mumbai last January. Beena Menon and Arundhati Sawant of PR agency Beautiful Planet included me in the related events. Siobhan announced that the 148th edition of The Open golf tourney this July was being played at Royal Portrush GC, an hour north of Belfast; a return of this Major to Northern Ireland after an absence of over 65 years. She made it clear that she wanted to use this rare opportunity to showcase her country to golfers all around the world.
As a result, and thanks to Lucia King of Tourism Northern Ireland, Lars Olsson of Stena Line, and Vicky Green of Andras Hotels, my wife Harinakshi and I got to visit Belfast last month. To get a first-hand taste of both the country and some golf on tap there.
Most golfers wanting to golf in Northern Ireland fly into Belfast. We did it differently: I love driving in the UK, so we picked up a rental car at Heathrow, drove to Liverpool, and hopped onto the reliable Stena Line ferry along with our car for a comfortable overnight crossing to Belfast. And checked in to the friendly Crowne Plaza hotel there.
Having your own car allows you to stop where you please: visit historic colleges in Oxford, breakfast on scones and cream in the Cotswolds, catch a Royal Shakespeare Company performance at Stratford, walk the ancient walls of Chester, visit a National Heritage site along the way, or see where the Beatles performed in Liverpool. And driving to your golf course becomes that much more convenient.
On arrival in Belfast I learnt that all public tickets to watch The Open had sold out! Both Season and Day tickets. That speaks volumes on how popular golf must be in these parts. Though I am sure most of the locals planning to attend will be rooting for their Favourite Son from Holiwood in Belfast, the charismatic and most talented Rory McIlroy!
We drove through the pleasant countryside to play Royal Portrush GC's Dunluce course. Preparations for The Open were already underway, even though the event was more than two months away. Some bleachers had already been erected. TV crews were planning camera placements. Most importantly, greenskeepers were busy improving the course. To protect the fairways, golfers were required to hit their ball off a small mat; I chose to move my ball off the fairway to the nearest point in the second cut and then hit it off that grass, since this was allowed. There is no doubt Royal Portrush will be ready to host The Open come July!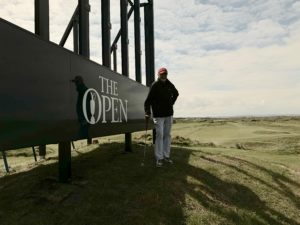 I found Royal Portrush both challenging and interesting. It captured all that links golf is known for: Strong winds that come in from the neighboring sea, contours on the fairways and roughs that reflect the original land the course was laid on, adequate length, narrow fairways, deep bunkers here and there, hard aprons so that putts from even 20 yards off the green could be made, undulating and often small greens, and fairly tough roughs with enough tall weeds and gorse bushes to snare your errant shot! I came away with 8 pars and a birdie, not bad for a 68-year old -12 handicapper, playing the course for the first time, albeit off the white tees.
But at the other links course I played, the semi-private Royal County Down GC, an hour south of Belfast on Northern Ireland's eastern coast, I could only manage 3 pars! The course was a killer: more variety in the way holes were laid out, more contours on the ground, severe elevation changes on some holes, blind shots, and more punitive roughs with taller weeds and yellow-flowered gorse. I was huffing and puffing as I pulled my golf trolley up and down the undulations. If you go play there hire a caddy, because local knowledge for line and distance is all-important. Yet I found playing County Down more memorable than Portrush. Perhaps the next time The Open comes to Northern Ireland, it could be played at County Down.
The entire coast of Northern Ireland is dotted with links courses. Dozens are within an hour drive time from Belfast. Port Stewart. Castlegrove. So many others. Pick those that fit your budget, location and difficulty.
But Northern Ireland golf is not just about playing links courses. There are many fabulous parkland courses there, too. I played the magnificent, immaculately maintained Malone GC, an exclusive, private club located in a swish upmarket suburb of Belfast. Where there is pride of membership and they are so friendly to their guests. Being far from the sea the wind was mild. Many mature trees lined the fairly wide fairways. A large lake came into play on many holes on the Back 9. And it even had an island green. Best of all, with flowers growing everywhere, it was so scenic that my wife described the experience "like taking a walk in a beautiful garden!"
My playing partner at Malone GC was their Assistant Pro. A -3 handicap Belfast boy home for the summer from his studies at the University of Dundee. Working at Malone was surely good money and he could also work on his golf game. But when he told me he used a 50-year old chipper given to him by his grandfather, I realized what golf meant to the Irish here. Golf seemed to be at the very core of Northern Irish culture, and was this way for generations. Like it was in the country's very DNA! So unlike what you see in nations such as Mauritius or the Emirates, where golf is a recent entrant and caters mainly to visitors.
I then realized clearly how tickets to The Open had sold out so soon!
Luckily, I played all my rounds of golf in unusually mild weather conditions. Yes, the links courses were cold. And the wind did gust. But there was hardly any rain. I was truly blessed! But, as my good friend Ferjan Engineer jokingly reminded me, "If it has not been bitterly cold, windy and rainy, you have not had a true Irish golfing experience!"
We stayed in comfort at Belfast's 4-star Crowne Plaza hotel, a few miles away from the City Centre. Owned by Lord Rana, of Indian origin. Offering impeccable hospitality. It even had an Indian restaurant on the premise! How perfect is that?
And the city of Belfast was a delight. Reminiscent of Dublin and Edinburgh, but smaller and better. Comfortable, clean and liveable. Little congestion. Young residents. Many historic buildings, museums and colleges. Cafes and bistros. And parks galore, like the enormous Sir Thomas and Lady Dixon Park on Belfast's outskirts next to the Malone GC, and the botanical gardens of Queens University, where walking is a pleasure.
But also a city where politics and history is alive and gives it a special character: With larger-than-life murals and graffiti, of the Ulster Unionist Party, the Sinn Fein, separatist movements and civic strife, visible everywhere. Even the new, must-see Titanic exhibit covered more than just the sinking of that grand liner; it offered a critical view of what Belfast was like in the early 1900s in terms of industrialization, employment and society. All these experiences made us realize that Belfast oozed with emotion and soul.
Go to the city's trendy Cathedral Quarter. For a delicious cup of coffee or lunch, try friendly EstD. For an affordable dinner of original cuisine, try Made in Belfast. Catch singer Barry Johnston at the iconic Harp Bar, a true melting pot, where the Guinness flows as rowdy bachelor parties cohabit with cuddling middle-aged couples, and nubile Irish lasses dance to rocking music with wild abandon all night long!
Our experience was so exceptional I was left wondering: Why has it taken so long for The Open to return to Northern Ireland? Why is it that Northern Ireland golf is overshadowed by golf in Scotland and the Republic of Ireland? Why don't more golfers come to Belfast? Truly, I wish I could have stayed on in Northern Ireland longer to soak in more of all the wonderful things it has to offer.