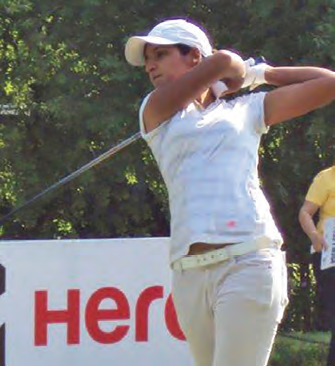 Neha Tripathi, who did not win for more than four and a half years, has now won twice in three starts on the Hero Women's Pro Golf Tour. After winning the 10th Leg before the mid-year break, Neha triumphed in the 12th leg of the Hero WPGT at the Golden Greens Golf & Resorts Ltd, to give herself a big boost for the final stage of the season.
Neha became the third player to win a second time this year. The other two are Sneha Singh and Gaurika Bishnoi. Neha also moved to the second spot on the Hero Order of Merit, as Sneha Singh despite a T-22 finish stayed on top. Seher Atwal, who was 12th this week, is lying third.
The seasoned pro-Neha, who has shown encouraging form after a lot of off-season work, overcame a disastrous quadruple bogey while carding a round of 1-over 73 and still won by three shots. With rounds of 68-67-73, she totalled 8-under 208 and warded off a strong final-day challenge from Tvesa Malik, who put together a superb 6-under 66 to finish second at 5-under 211. Tvesa earlier shot 75-70 on the first two days.
Ridhima Dilawari (70-72-70) was tied third with Riya Yadav, who after two fine days dropped to 75 in the third and final round. They totalled 4-under 212.
Neha, starting the final day with a two-shot lead, got off to a birdie start, but then a quadruple bogey on the Par-5 fifth created a crisis for her. However, Riya Yadav, her nearest rival and just two behind at that stage, was unable to take advantage. Riya, who had a hole-in-one on the first day, dropped bogeys on the eighth and ninth and then three in a row from 13th to 15th as she carded 75 and fell to Tied-third.
Neha started her recovery process with a birdie on the eighth and again on the 10th. She then birdied 14th but dropped a shot on the 15th. With three steady pars on the last three holes, she ensured a comfortable win, her second of the season. She received her winning cheque of Rs.1,48,000 from Mr Ravi Grover, Director of Golden Greens Golf & Resorts Ltd.
Tvesa Malik had three birdies and one bogey on the front nine and then four birdies on the back nine as she played a round of 66. She started the final round ten shots behind Neha and it was too big a lead to cover, though Tvesa made up seven shots. Still, she fell three short, but gained a lot of confidence going ahead.
Ridhima Dilawari had two birdies and a bogey in the first four holes, three birdies against two bogeys between the eighth and 12th and parred the last six holes for 70.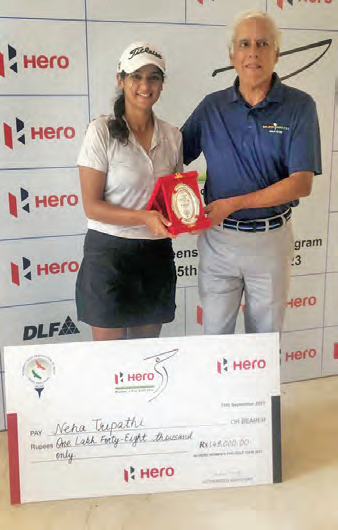 Neha Tripathi gets her winning cheque and trophy from Ravi Grover afer winning the 12th Leg of The Hero WPG Tour