By Ridhima Dilawari
Fueled by Bryson Dechambeau's recent distance gains (who in turn seems to be fueled by the 6/7 protein shakes he gulps down every day), the advent of distance and power in the game of golf has been a hot topic of discussion in recent weeks.
Golf has entered a new era of fitness. Call it a 21st-century obsession with the physical side of the game. For the first time in the sport's history, physical strength and flexibility have become widely recognized and highly sought by golfers of many skill levels. Suddenly the sport is flexing its muscles and twisting its body in ways that were hard to imagine a few decades ago.
Through the years, competitive golf has had its share of fitness fanatics. One of the first was Frank Stranahan, who won pair of British Amateurs in the 1940s and was as devoted to his gym workouts as he was to his golf game. Then came nine-time major winner Gary Player, who at age 84 still likes to brag about how many sit-ups he can do. In later years, Greg Norman and Nick Faldo took themselves to the top of the professional game, thanks in no small part to the workout regimens they followed. However, apart from these rare exceptions, as recently as the late 1990s, tours were not circuits filled with bodies by Adonis. The average player cut the profile of a mid-career pot-bellied accountant. No one ever talked about their glutes not firing because no one even talked about glutes at all.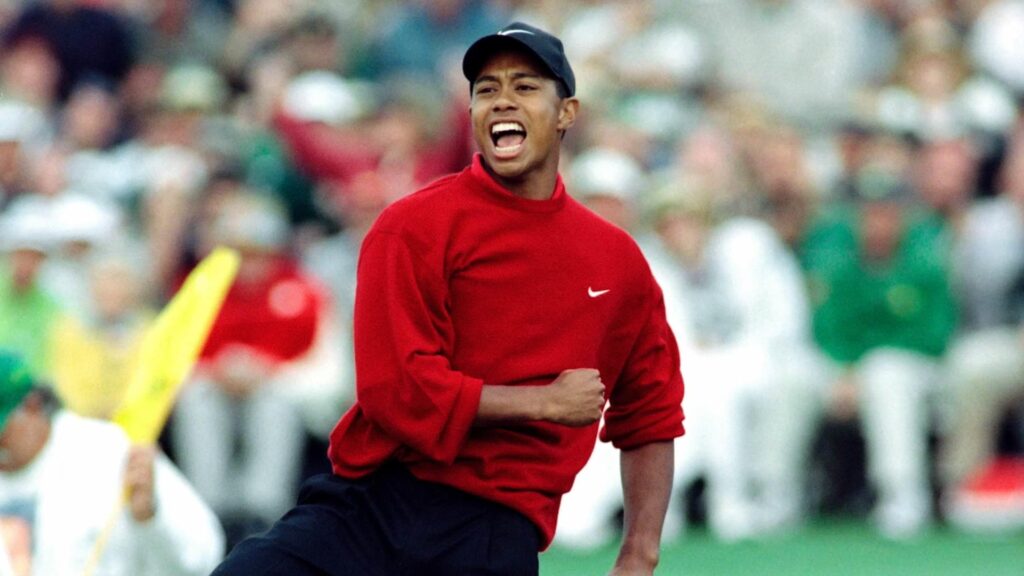 Most agree that Tiger Woods marked the crucial turning point in entering this era of fitness. Just as his mental game seemed sharper than his peers', his build was leaner and stronger. Woods first showed that when he won the 1997 Masters, using his prodigious power to transform the par-5s at Augusta National into par-4s as he secured a record-setting 12-stroke victory. He might have looked like a skinny kid at the time but even as a 21-year-old Woods was a committed gym rat. By 2000, when he won the U.S. Open at Pebble Beach by a staggering 15 shots, he had developed a tremendous amount of muscle mass, which showed as he powered shots from Pebble's high rough. A month later, his eight-stroke victory at the Open Championship on the Old Course in St. Andrews was one of the greatest ball-striking exhibitions in major championship history. Woods at his peak could do things no other player in the history of the game could do and his physicality was one of the bigger reasons for it. His successes induced a good number of tour pros to start hitting the gym instead of the bar. Elite amateurs soon followed. Eventually even recreational players added workouts to their practice and playing time, many led in that direction by club professionals who saw this trend as a way to get their students playing better.
But if you think about it, Woods was simply doing what many athletes did- just not many golfers. With the increased depth of fields and tour players wanting to maximize their potential, it's only natural that golf would begin to bridge the gap to other more athletic sports like basketball or American football, to which people tune in to appreciate the athleticism and physical prowess of the players. Thus, power, distance and all-round athletic ability are slowly becoming the center of golf's increasingly conditioned aesthetic.
As a result, interest has surged and purses have swollen. So have the lengths of courses. They have been stretched to accommodate more advanced equipment used by more explosive athletes, vying for fortune they might once have looked for in other sports. It is a perfect storm, with winds whipping in favor of the power game.
Though there does seem to be appreciation for the way the sport is evolving, many seem critical of this new push toward explosiveness as it could potentially diminish the 'artistry of the game'. However, I would argue that the artistry of the game will never truly die. Today's athlete is bigger, stronger and faster because of healthier lifestyles and the continuing evolution of the human body. Of course, these factors with the addition of advanced technology do assist, but to be a successful golfer the club needs to be swung properly and the ball needs to go in the hole in the least amount of strokes.
However, no matter where one stands in this debate, the future of professional golf tours seems clear. The best players in upcoming years are likely to be physical specimens who have carefully sculpted both their bodies and their swings. Golfers will surely continue to get more powerful over time and become better all-round athletes.