By Michael Wilson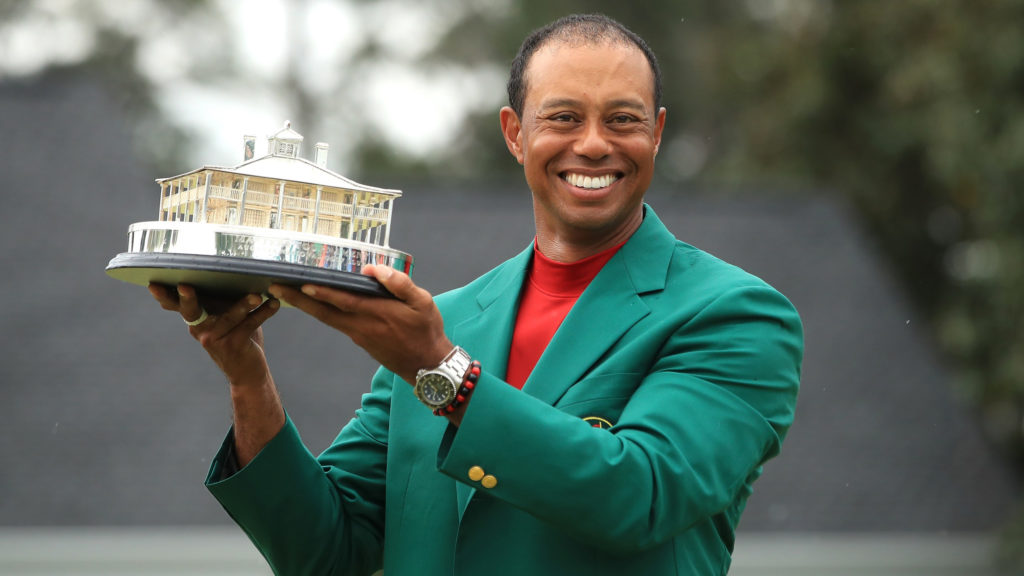 The Tiger Woods victory in the 2019 Masters may have been as unexpected as it was dramatic, but he was a man who had been there before, four times before in fact; here, we take a walk down memory lane to remember his first quartet of wins at Augusta National.
 1997; Competing in only his third Masters – he has finished tied-41st on debut in 1995, winning the Low Amateur accolade before missing the cut for the one and only time in 21 appearances to date – Tiger Woods won his first Green Jacket with a record-breaking performance, taking Augusta National apart with a dazzling display combining power, grace and poise, finishing 18-under-par and the record margin of victory, 12 strokes clear of a star-studded field.
He also became, at just 21-years and-104-days-old, the youngest player ever to win the Masters and also the first non-white champion at Augusta National in what was the 61st staging of the season-opening 'Major.'
But a Woods victory had looked highly-unlikely after the first nine holes of his opening round, reaching the turn in 40 shots, four-over-par, but a blistering back nine – comprising four birdies and an eagle – 30 took him to a respectable 70, three shots off the pace.
In the Friday and Saturday rounds, Woods carded the lowest scores rounds of each day, 65, seven-under and 66, minus-six to open up a commanding and ultimately unassailable nine-shot lead, his final round of 69 seeing him home in a canter, claiming his first-ever 'Major' title and announcing himself on the world sporting stage with a loud bang.
Such was the tumult that the Woods win – and the comprehensive, cavaliering manner in which it was achieved saw television ratings soar, setting records for golf, the final round watched by an estimated 44 million viewers in the United States alone.
2001; Having finished eighth in his 1998 title defence and a disappointing tied-18th in 1999, followed by a top-five finish in the first Masters of the new Millennium, Woods had gone on to win his first US Open and a maiden Open Championship, not to mention a successful defence of his 1999 USPGA Championship later that year.
Hence, Woods went into the 2001 Masters, his seventh appearance of all as red-hot favourite, and now a mature 26-year-old, and he did not disappoint, although his second Masters win, four years after his maiden victory.
Handily sitting in 15th place after the opening round, five-shots back, Woods scorched his way to joint-second with a sizzling 66, six-under-par on the Friday, following that up with a steady four-under 68 on Saturday, to lead by a single shot ahead of arch-rival, Phil Mickelson.
A second successive 68 of the weekend was sufficient to see Woods win not only his second masters title by two shots from compatriot David Duval, but, having won the three final 'majors' of 2000, he now held all four 'Major' titles simultaneously, coining the phrase, the, 'Tiger Slam.'
This was Tiger's sixth 'Major' in a professional career spanning just four years, and it earned him the first-ever seven-figure winner's cheque and kept him firmly on top of the OWGR.
2002; April 2002 saw the 66th staging of the Masters, traditionally the first 'Major' of the season and staged, as ever, at Augusta National Golf Club in Georgia, USA, and, with a seemingly invincible Tiger Woods lording it down Magnolia Drive as the odds-on favourite, the now 27-year-old did not disappoint.
With Augusta National lengthened by almost 300-yards, Woods opened his defence in blistering style, three successive birdies on the front nine on Thursday, before uncharacteristically faltering to sign for a modest, two-under-par 70, tied in seventh, three back from the leader, Davis Love III.
A solid Friday round of 69, three-under kept the defending champion very much in contention for the weekend, tied fourth, but, in true Tiger style, he powered ahead on Saturday – typically, 'Moving day,' with a fine six-under 66 to share the lead with South African Retief Goosen, with whom he was paired for the fourth and critical final round.
And after opening up a lead with birdies at both opening holes, Woods uncharacteristically lost his momentum, but with Goosen wilting under the twin pressures of the final round of the Masters, and of playing amidst the photographer and fan-frenzy that goes with the Tiger territory, a one-under-par 71 was enough to give Woods his third Green Jacket and become only the third man – following Jack Nicklaus and Nick Faldo, to successfully defend a Masters title.
Woods was to go on to win the season's next, 'Major,' the US Open at Bethpage, taking his number of, 'Majors,' to eight, cementing his place at the top of the world rankings and going a long way to confirming the 27-year-old as PGA TOUR Player of the Year for the fourth time in five years.
2005; Having failed to contend in either of the 2003 or 2004 Masters, Tiger Woods came to the 69th Masters unusually without a 'Major' title for almost three years, but, back in his favourite stamping ground, having turned 30-years-old, the reigning world #1 made a clumsy start, opening up with a two-over-par 74.
But, in typical Tiger fashion, he retrieved the situation with a sparking 66 on Friday, lifting him to third place, followed by a superb third round seven-under 65, which carried forward to Sunday morning as darkness fell on the Saturday, giving Woods a three-stroke lead over his fellow-America Chris DeMarco going into in Sunday's final round.
However, a lack-lustre 71 to his closest rival and playing partner DeMarco's 68 levelled things up and led to a play-off, which Woods won in typical style on the first extra hole, the 18th, nervelessly sinking a 15ft putt for birdie after his rival had holed-out for par.
But it will be for his dramatic putt on the 16th hole in regulation play on the final round that the 2005 Woods Masters win will be best remembered; having left his iron off-the-tee 25ft out to the right on the 170-yard hole named, 'Rosebud,' his ball – with Nike swoosh facing the camera, but the thick collar of the second cut hampering his stroke, the world #1 set his ball a good 12 – 15ft left of the hole, hoping it would feed down and fishing close to the hole.
As it transpired, Woods went, in typical style, one better; his ball tricked downhill towards the hole, sitting on the lip – Nike swoosh once again in full view – for a full five seconds before dropping for an unlikely – and scarcely deserved – birdie-two, arguably one of the greatest shots in Masters history.