By Micheal Wilson
This year's US Open Championship, with a US$12m prize fund, the richest of golf's four 'Major,' tournaments heads out west to the spectacular Pebble Beach Golf Links, concludings, as is tradition, on Father's Day.

 And, following the tumultuous scenes just off the 18th green at Augusta minutes after clinching the Masters in April, with Tiger Woods embracing his young son Charlie, could lightening strike twice as the comeback kid chases down the Jack Nicklaus record of 18 'Major' championship wins?

But, hand-on a minute, Woods's arch rival Phil Mickelson, the 'Local Hero,' needs a US Open win to complete the career Grand Slam, and, with five previous PGA TOUR victories over the Pebble Beach course, one of the great golfing showdowns could be on the cards in California this month.

— Mike Wilson reports. 
The game of golf is alive and well, indeed better than ever following the epic Tiger Woods victory at the Masters, global interest, media coverage and consumption, tournament ticket uptake, worldwide club membership, equipment sales, participation levels, all are said to be enjoying a massive Tiger Masters bounce, and, boy, did the royal and ancient game need it.
Now, with its talismanic, totemic commander-in-chief back to his best, winning tournaments the way only Tiger Woods can win them, seemingly by casting a spell over his rivals, rendering them like rabbits in his headlights whilst grinding out victory in his own inimitable style, golf's tectonic plates have shifted once again, Tiger is back where he belongs and golf is much the better for that.
And talking of tectonic plates, this year's US Open, the third rather than the second of golf's four 'Majors' following the move of the USPGA Championship from August to June is being staged – quite appropriately – over the redoubtable Pebble Beach Golf Links, located towards the southern end of the infamous San Andreas Fault.
Pebble Beach, a truly majestic links layout, seemingly holding on to the Pacific Ocean like grim death, was designed by the unheralded duo of Jack Neville and Douglas Grant, with later adjustments made by more eminent architects including Alistair Mackenzie, Arnold Palmer and Jack Nicklaus, the latter remodelling the fifth hole 20-years-ago.
And Tiger Woods and Pebble Beach have previous; they are intertwined like hand-in-glove, Woods winning the 2000 US Open over the Californian links by a record 15 strokes, the man born in Cypress, not a million miles away in the same 'Golden state,' also winning the AT&T Pro-am that same year.
"It's interesting to see the golf course, how much it has changed due to some of the redesigns that they have had, requiring different strategies, different shots," says Woods, adding, "Probably only going to need just handful of drivers out there, some of the holes where you would think you would hit driver, 3-wood is now starting to become a choice."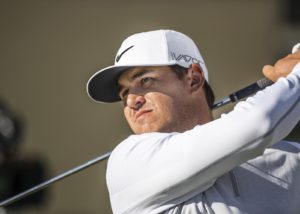 One man seeking to achieve something even Tiger has failed to date in his stellar career is his Ryder Cup team mate Brooks Koepka, who is chasing a third successive US Open title, having won in 2017 at Chambers Bay and defended successfully last year at Shinnecock Hills.
"Sounds incredible," says the Floridian, recently turned 29, describing his successful defence last year saying, "To be honest with you, probably couldn't have dreamed of it in my wildest dreams. I'm at a loss for words, but it's really incredible [and] I couldn't be happier. It was pretty special."
Only one player has successfully achieved the US Open three-in-a-row feat, Scotsman Willie Anderson, way back in 1903 – 1905, yet Koepka, who cut his teeth on the European Challenge Tour, winning the Scottish Hydro Challenge in Anderson's home country goes into Pebble Beach in good heart after a lack-lustre start to the season, having started out with a mighty impressive victory at the CJ Cup @ Nine Bridges.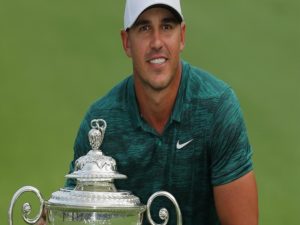 Apart from Koepka chasing a unique US Open hat-trick, much of the focus ahead of the 119th staging of the USGA event is certain to be on local hero, Phil Mickelson.
'Lefty' was born and raised in nearby San Diego, California, still resident in Santa Fe, the 48-year-old, who has won the AT&T event played over Pebble Beach on five previous occasions and is the reigning champion knows the course like the back of his hand.
And, with the US Open the only 'Major' title to elude him in a cosmic career to date, the left-hander, who is closing-in on the US$100m mark in on-course earnings would dearly love – and, reaching the latter end of his career may never have a better opportunity – to get the monkey off his back and complete the career Grand Slam.
"That I grew up in California and I'm used to the poa annua greens, I think that's a big adjustment for a lot of guys, seeing how the ball rolls on that particular grass and adjusting to the soft conditions, getting the ball close, trying to get the spin off the ball, that's a challenge," says Mickelson, explaining, "But growing up here you get kind of used to it and figure it out."
US Open runner-up on six different occasions, Mickelson, who flattered only to deceive at this year's Masters – he finished in a tie for 18th place following a disappointing final round of 72 – seemed genuinely pleased for his nemesis Tiger Woods as he greeted the new champion off the 18th green on Sunday, but, oh what 'Lefty' would give for that missing piece of his career jigsaw, his national Open Championship crown, and in his own Californian back yard.
"I just really enjoy coming here [to Pebble Beach]," insists Mickelson, adding, "I enjoy the [Pebble Beach] course, [it's] a lot of fun to play [and] I really like this place and I played well here in the past."
Dating back to 1919 – the course is celebrating its centenary this year – Pebble Beach has played host to the US Open on five previous occasions, most recently in 2010, when Northern Irishman Graeme McDowell, the European Ryder Cup stalwart took the one and only 'Major' of his career to date, thriving on the links style of golf he grew up playing over his home course, Royal Portrush, which hosts the Open Championship this year for the first time in 68 years.
Previous US Open Champions over Pebble Beach, consistently ranked in the top-20 golf courses in the world include Jack Nicklaus (1972), Tom Watson (1982) and Tiger Woods, whose winning margin of 15 strokes over the field remains a record, which is unlikely ever to be broken.
And Woods remembers the occasion well.
"It was a day in which I knew if I went out there and made no bogeys – if I made 18 straight pars, Ernie [Els] would have to shoot a really low number," he recalls, explaining, "What I didn't want to do is have the guys behind me with the calm conditions, get off to a quick start, and then [me] make a few bogeys on top of that, and the next thing you know, it's a ballgame.
"If I went out there and was patient, hit a lot of fairways, a lot of greens, I knew I'd make a putt here and there, and maybe increase the lead or, if not, let them know that it was almost impossible to catch me."
With defending champion Brooks Koepka coming back into some sort of form at the Masters, a first successful US Open defence – excluding his own in 2018 – since Curtis Strange won back-to-back US Open titles in 1988 and 1989 could be on the cards.
But, one suspects, what the massed ranks of spectators swarming over Pebble Beach would most like to witness would be for the resurgent Tiger Woods, California-born and raised and Phil Mickelson, also born, raised and still resident in the 'Golden State,' go head-to-head, perhaps for one last meaningful time.
Such a contest would shame the artificial construct that was, 'The Match,' played between the pair late last year, an authentic battle royal between two of the greats of the game, a bona fide sporting challenge, a 'Major,' championship played over one of the great links golf courses in the world.
One could not write the script for that golfing drama.
Woods will be gunning for a fourth US Open crown and to get to within two 'Majors' of the 'Holy Grail,' the Jack Nicklaus record of 18 'Majors' in total, Mickelson, for his part, searching, straining every sinew in an effort not only to eclipse his nemesis Woods, but also to secure a first US Open title, complete the career Grand Slam in his own backyard and cement his place in history as he prepares for the Champions Tour.
Of course, there will be 154 others determined to rain on the Woods / Mickelson parade, but, let there be no doubt, golf in general and fans, journalists, broadcasters and, one suspects, the USGA in particular will all be California Dreaming.