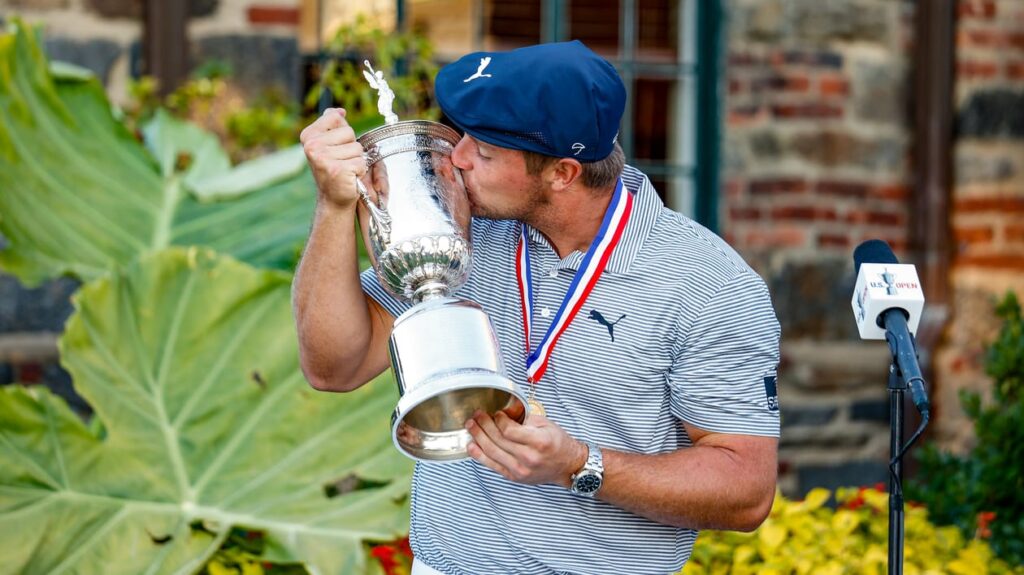 Jack Nicklaus, Tiger Woods and now Bryson DeChambeau. They are the three golfers who have captured an NCAA individual title, a U.S. Amateur and a U.S. Open. DeChambeau joined that esteemed fraternity on Sunday at Winged Foot Golf Club with a performance for the ages on what many consider one of the game's most demanding championship tests.
DeChambeau carded a final-round, 3-under-par 67 to earn a decisive six-stroke victory over 54-hole leader and wunderkind Matthew Wolff, who was vying to become the first U.S. Open rookie to win the title since 20-year-old amateur Francis Ouimet in 1913.
"It's just an honor," said DeChambeau, who also is the 12th player to have won a U.S. Amateur and a U.S. Open. "I don't know what else to say. It's been a lot of hard work. Mr. Nicklaus has been always awesome to me. Tiger has always been great to me. I can't say thank you enough to them for helping push me along to be a better person and a better golfer, as well. To be in the likes of that company is special. I'll forever appreciate that."
The West Course has a well-earned reputation for doling out punishment in its previous major-championship turns. Three of the four previous U.S. Opens held on the A.W. Tillinghast masterpiece in the post-World War II era produced over-par winning scores, including the famous "Massacre at Winged Foot" in 1974 when Hale Irwin triumphed with a 7-over total of 287.
Sixty of the 61 competitors who completed the championship on a chilly and breezy late-summer day battled the West Course to a draw – or much worse (75.03 stroke average). DeChambeau, whose analytical, scientific approach to the game is accompanied by an aggressive "bomb-and-gouge" mentality, took on this bully with a full arsenal of brains and brawn.
The 27-year-old from Clovis, Calif., became just the fourth player in the championship's past 100 years to be the only player to better par in the final round and hoist the trophy. The trio before him were World Golf Hall of Fame inductees Gene Sarazen (1922) and Byron Nelson (1939), and Jack Fleck, who denied Ben Hogan a fifth title in 1955 at The Olympic Club.
DeChambeau is the only player in the six U.S. Opens contested at Winged Foot to post all four rounds at par or better, and was the only competitor to finish in red figures for the week (6-under 274).
"Surreal. It sounds amazing, but surreal," said DeChambeau of being a U.S. Open champion. "It's been a lot of hard work. It's one of those things that doesn't really hit you. It's not going to hit me until tonight."
Wolff had hoped to complete one of the great stories in the annals of the U.S. Open. Sunday's final round came exactly 107 years to the day of Ouimet's stunning 18-hole playoff victory over British stalwarts Harry Vardon and Ted Ray at The Country Club outside of Boston. Like Ouimet, this was Wolff's first U.S. Open start, and just his second major since leaving Oklahoma State and turning pro 16 months earlier. Wolff won last year's 3M Open and tied for fourth in last month's PGA Championship to earn his exemption into this all-exempt field.
"I think I'm definitely changing the way people think about the game. Now, whether you can do it, that's a whole different situation. There's a lot of people that are going to be hitting it far. Matthew [Wolff] was hitting it plenty far today. A couple of putts just didn't go in for him today and kept the momentum on my side. So he's definitely got the firepower and the strength to do it. You've got to be looking out for him in the future. There's a lot of young guns that are unbelievable players, and I think the next generation that's coming up into golf hopefully will see this and go, hey, I can do that too." – Bryson DeChambeau
DID YOU KNOW?
The champion receives custody of the U.S. Open Trophy for one year as well as the Jack Nicklaus Medal, exemptions into the next 10 U.S. Opens, and five-year exemptions into the other three major championships.
Champion Bryson DeChambeau tied for fifth in greens in regulation (46), despite tying for 26th in fairways hit (23).
DeChambeau's total strokes gained of 7.90 is the fourth-highest by a champion since 1960. Johnny Miller(10.77 in 1963), Arnold Palmer (9.29 in 1960) and Jack Nicklaus (8.19 in 1967) were higher.
This was just the third time since 2000 that the champion was the only player in red figures (Tiger Woods in 2000 and 2002).
Justin Thomas, the first-round leader, recorded the most birdies (16).
Not a single bogey-free round was recorded in the championship.