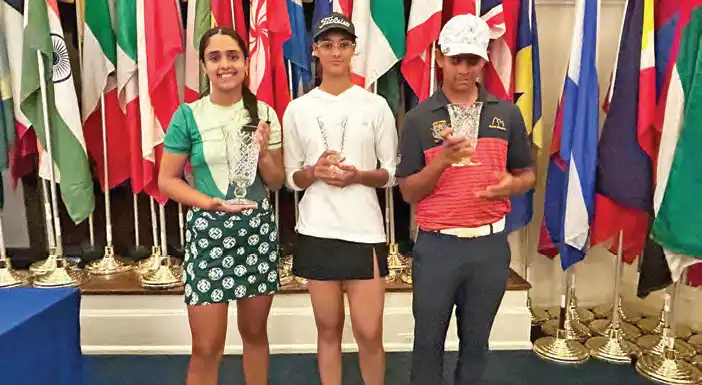 Mahreen Bhatia finished very strongly with three birdies in the last four holes, including two in the last two, but finished a gallant second in Girls 14 at the US Kids World Teens Championships at Pinehurst. The second place this week is in addition to the second place she claimed in the European US Kids Golf Championships in May. A bogey on the 16th and the earlier ones on the 10th and 12th at the Pinehurst No. 6 course, proved costly for the talented Indian teen. Mahreen with rounds of 69-69-72 totalled 6
-under 210 and was second behind American Maria Isabella Errichetto, who shot 71 in the final round. There were other good results, too, for the Indian contingent in Boys 13, where Kartik Singh (69-71-69) totalled 7-under 209 to finish third behind Thailand's Ajalawich Anantasethakul (65-71-69) for a total of 11-under and American Rory Asselta (67-71-69).
Lavanya Gupta competing in Girls 15-18 made a great run on the final day, including five birdies on the front nine, three of them in a row, but a closing bogey on 18th cost her a better finish. Placed fifth after the second round, Lavanya shot the day's equal best of 68, just like Olivia Hasselbach, whose last hole birdie and the Indian's last hole bogey made a swing of two shots, which was the winning margin for the American from Tampa, Florida.
Colombian Laura Sofi a Espinosa Gonzalez 73-68-71) at 212 was second, one shot behind the winner, Olivia, and one ahead of Lavanya. With one second-place and two third-place finishes, the US Kids Indian Team once again had a successful outing at the World Championships.
Among other Indians, in Boys 13 Vihaan Jain (76-74-72) improved further on the final day with a 72 that took him to T-30, up nine places from the second round. Also in Boys 13, Arshvant Srivastava, who had a rough week shot 78 and ended T-72. In Boys 14, Ranveer Mitroo (74-73-74) was Tied-12th, while Udai Aditya Middha
(74-80-75) improved 12 places to fi nish T-34 and Tejas Mishra (76-76-79) slipped to T-45, down 13 places. Among Boys 15-18, Ranveer Singh Dhupia (76-76-78) improved 11 places and was T-44, while among Girls 13, Asara Sawhney (83-79-81) finished T-29, one place below where she was after the second round.