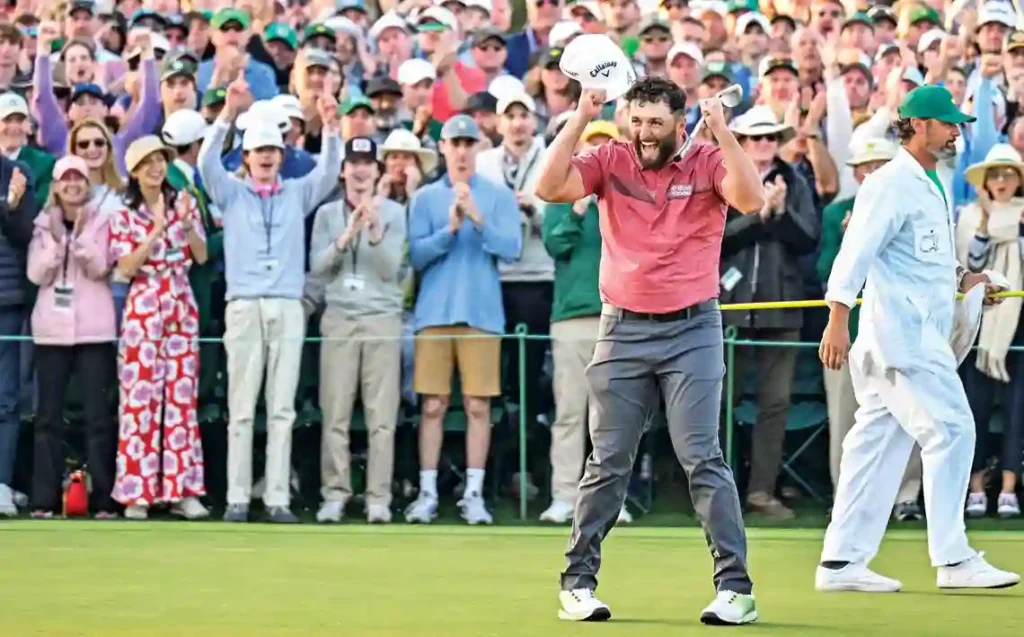 RAHM REIGNS SUPREME IN BITTERSWEET MASTERS
As the rain came barreling in Friday and created havoc with both the second round, which had to finish Saturday, and the third round, which was completed Sunday, it was clear that the officials who administer the Masters Tournament at Augusta National Golf Club in Augusta, Georgia, needed to catch some sort of break. They did, too. First in the form of Sunday weather – cool, but sun-splashed — that enabled the leaders to play as many as 30 holes, then in the perfect winner to capture arguably the most coveted championship in professional golf: The best player in the world. Yes, Jon Rahm wears the No.
1 next to his name in the Official World Golf Rankings and so it's fitting that he wears a Green Jacket, too. The 28-year-old from Barrika, Spain, followed in the footsteps of countrymen Seve Ballesteros, Jose Maria Olazabal and Sergio Garcia by chasing down a major with 30 holes of gruelling golf on Sunday, the marathon session made necessary by torrential rain that started falling Friday and went into late Saturday evening. That the 87th Masters ended with Scottie Scheffler er draping the Green Jacket over Rahm's shoulder is as it should be, because they have been the best two golfers in the world the past two seasons. They have traded the top spot in the OWGR back-and-forth and if Scheffl er's four-win season in 2021-22 made him the top dog, then Rahm winning four times in 10 starts in 2022-23 on the PGA TOUR has to answer that emphatically.
Not that they won't have ample opportunities to settle the issue, not with the PGA Championship coming in May, the U.S. Open in June, and the Open Championship in July, along with the PGA TOUR's ultimate prize, the FedExCup in August. Three more majors in such a short period of time is a delectable offering to ponder as you savour Rahm's trips of 65-69-73-69 to finish at 12-under 276 and win his second major championship, and for good measure give a round of applause to Scheffl er, 25, who put up an admirable defence and finished T10 at 4-under 284.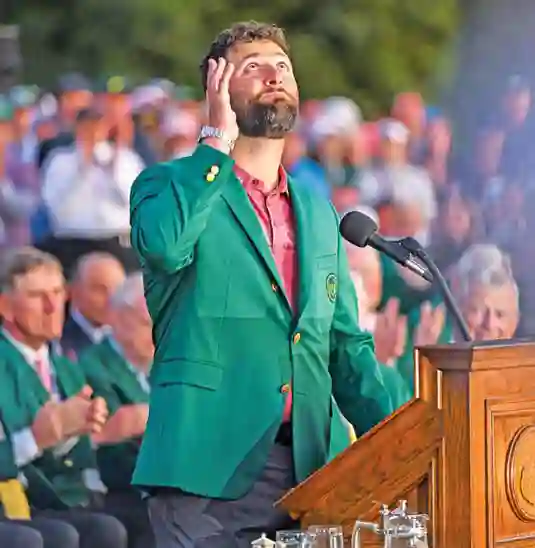 There was much to love about this year's Masters, not only that such a force of nature as Rahm won or that he had to outplay four-time major winner Brooks Koepka head-to-head over the final 36 holes, in and around a couple of heavy downpours. There also was a stirring performance by Norway's Viktor Hovland, who opened with 65 and remained in the hunt throughout the 72-hole grind. For good measure, young stars Patrick Cantlay, Xander Schauff ele, and Collin Morikawa all finished in the top 15 and a name that is rising quickly in world circles, Sahith Theegala, finished ninth and delivered so much good cheer that his esteemed playing competitor, Tony Finau, wore a smile wider than Rae's Creek. A rousing week for all, though Rahm was the showcase attraction and Fred Ridley, Augusta National Chairman, explained and made sure everyone knew what had transpired. "Forty years ago, your hero, Seve Ballesteros, won his second Green Jacket; today, you've won your first and it happens to be on the day (when he would have turned 66)."
Rahm fought to control his emotions. "History of the game is a big part of why I play," he said. "Seve being one of them." That is when it had to hit you that this was a bittersweet Master, for sure. Yes, Rahm deserved the tributes flowing his way and the memories of Ballesteros were special, but another historical figure was involved in this Master and his presence invoked a sense of sadness. At 47, Tiger Woods failed in his bid to prove that he was capable of winning a sixth Green Jacket. Playing for just the second time this season and for only the 21st time in the four years since he posted a shocking win in the 2019 Masters, Woods gutted his way to a 73-74 performance to make the cut for the 23rd consecutive time in this major that he loves the most. But it went no further and it was a sad stoppage, to be sure. Before rain pounded Augusta National GC Saturday, Woods hit golf balls in the water at the 15th and 16th holes and was noticeably limping. It is tough to see any competitor in such pain, but even worst when it's arguably the greatest talent the sport has ever known. Woods has not only won five of these Green Jackets, but 15 major championships in all and when you talk about the most important players of his generation, you start with him and needn't go any further. A famous refrain is, "Wood doesn't move the needle; he is the needle."
Specifically, he cited the painful presence of plantar fasciitis for his withdrawal, but truth be told, Woods, could also mention an array of surgeries on his back, his foot and ankle, and his knees. While he's still physically gifted when it comes to the hand-eye coordination needed to hit a golf ball, his strength and his movements are limited and it's quite clear that you are fair to wonder every time he tees it up whether it will be the finale. At press conferences, he talks of a desire to play in the major championships. But they are long, gruelling walks, which is to say nothing of the strength and stamina that practice sessions will require should he want to show up in public with a polished game. And make no mistake about it, Woods' pride is relentless and he became the greatest player of his generation – and maybe of all time – by committing himself to excellence. Should he not be able to prepare, one has to wonder if he'll want to even tee it up. Was it his final Master's appearance? The gut tells you no, that he loves the tournament so much he'll do whatever he has to to to tee it up there in April of 2024, even it means resting his body for months and skipping major championships this summer. Woods knows full well that the game is in good hands with power brokers such as Rahm. This year's Masters proved it. But we also know that Woods deserves a grander exit. This year's Master proved that, too.