by Chuah Choo Chiang, Senior Director, PGA TOUR
Korea's Byeong Hun An returns onto the major stage for the first time in two years at The Open Championship this week to mark a career revival that has been sparked largely by happy family life and a swing coach whom he calls "Gandhi of the golf world."
The 31-year-old An earned his ticket to the year's final major at Royal Liverpool in Hoylake following a tied third finish at the star-studded Genesis Scottish Open on Sunday, which was his best result on the PGA TOUR this season.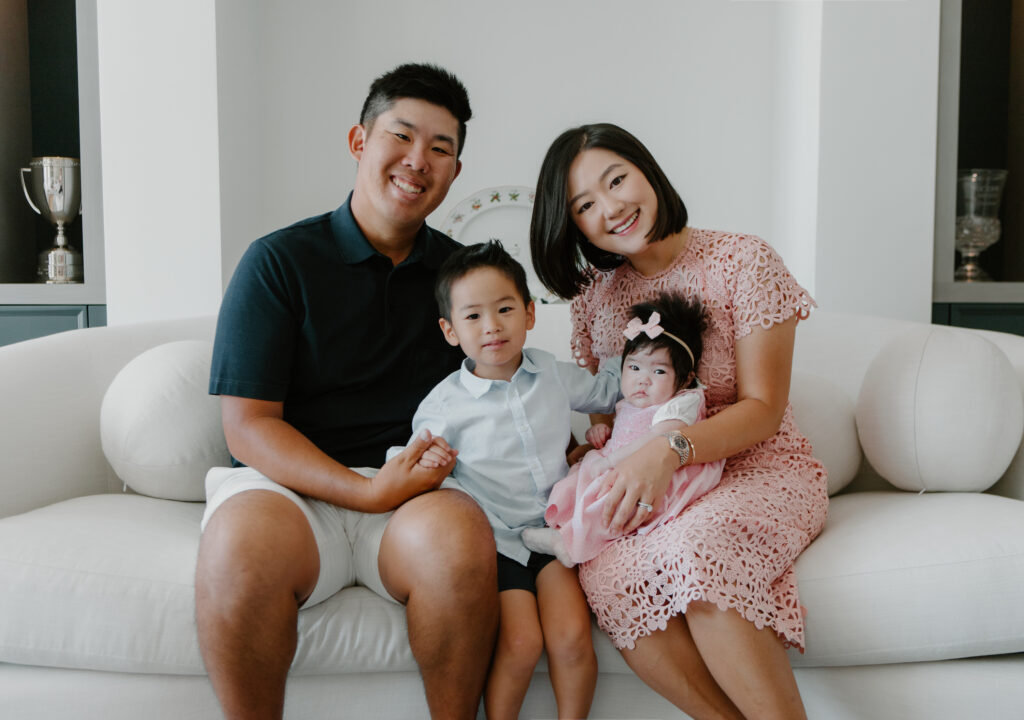 The stellar week on the Scottish links, where he was the first round leader with an opening 61, provided a timely reminder that An was once a top-25 golfer in the world and featured in the 2019 Presidents Cup for the International Team, before his career was side-tracked when he lost his TOUR card in 2021.
From being as low as 332nd in the world in early 2022, An has broken back into the top-100 this week and will feature in his ninth Open appearance as the 85th ranked golfer in the world, and with expectations of returning to his former stature as a top-25 player, if not higher.
"It's a bonus, it's a major and this is where all the best players are. Hopefully I can have another good finish this week," said An. "From the comeback last year when I lost my card, this year I feel like I'm playing a lot better, and more steady golf. It feels like I'm playing better golf than three, four years back."
His return to top form, where he has three top-10s and seven other top-25s to be ranked 49th on the FedExCup points list, has coincided with a growing family comprising of two young children with his wife, Jamie. Like many others, returning to a hotel room or his Orlando home with his young family waiting after a hard day in the office has been a source of joy, if not an outlet to leave his work stress behind at the golf course. With his parents both being Olympians in table tennis, An has received all the support required to climb out of his dark hole.
"Family life's been great. It takes your mind away from golf. After tournaments, you go back and you have kids around, you don't have time to think about golf. Obviously when you're at a golf course, you want to think about golf, you want to work hard. But when you're home, you're trying to play with your family. It's nice to have their support," said An.
"Fortunately, I've been travelling quite a bit with my family this year which has been fun. At least I get to see them grow a little bit. It's the best, it's like a normal life. When the family is around, there are more things to do. You go out for a walk, play with the kids or whatever. It takes the mind away from golf. That helps a lot especially when you've a bad day."
An, who is a former U.S. Amateur champion, also paid tribute to swing coach Sean Foley, who has coached the likes of Tiger Woods and Justin Rose. Interestingly, the year An started working with Foley in early 2021, he endured his worst campaign on the PGA TOUR to lose his card before regaining his status through the Korn Ferry Tour last year where he won once.
"Massive … he's been a very important team member," said An of Foley. "Apart from golf, he helps a lot with the things away from golf. He talks about other stuff, and not just how to play. There are some things which are unteachable by other people, and he's been a big help.
"I have lessons with him twice a week in Lake Nona and we hit balls for two hours and I'll probably hit like only 100 balls, and we talk for an hour and a half about other stuff, like the mindset. Golf is a game between your ears and it's a very complicated, hard game and we want to get our mind to be very strong. He's very unique.
"When I won the LECOM Classic (on the Korn Ferry Tour last year), he called every night and said stuff like 'Hey Ben just don't forget every shot … just one shot at a time. Don't think about the next hole, don't think about the last hole. Just stay in the present.' He's almost like, a Gandhi of the golf world. He has a very strong mindset and I like it. He likes watching motivational videos and reading books and he'll send videos, which are never about someone else's golf swing, but inspirational quotes and things with perspective in life. I read it all the time."
An is virtually assured of a place in the lucrative FedExCup Playoffs next month and will continue to chase the dream of securing a maiden PGA TOUR win. A return to the world's top-50 is another possible target although he knows only too well to keep it, like Foley says, one shot at a time.
"I mean it's not easy (to win on the PGA TOUR). Obviously, it is very competitive and if I look back, I've won on the Korean Tour, Challenge Tour, Korn Ferry Tour and European Tour (DP World Tour). Maybe there's more pressure but winning is great and it comes with good golf. You also have to be very lucky. Finishing top-10, top-5, that requires good golf but winning, you need to play good golf or you have to get very lucky too. Who knows, I might get lucky in the coming years but if you finish top five, top-10 in a lot of weeks, that's still good golf," he said.
"I just want to try to play a bit better and get into the TOUR Championship. The top 50 in the world is hard to do as there are so many good players out there. I think it just follows when you play good golf consistently in the big events. I'm just happy with where it's been going, and how I've been swinging it and getting better which is my main goal. "I want to be the best I can potentially be. It might be 50th in the world, might be 100th in the world. You never know. I don't want to set the bar. Why would I set the limit when I don't know what the limit is? I don't know how good I can be."